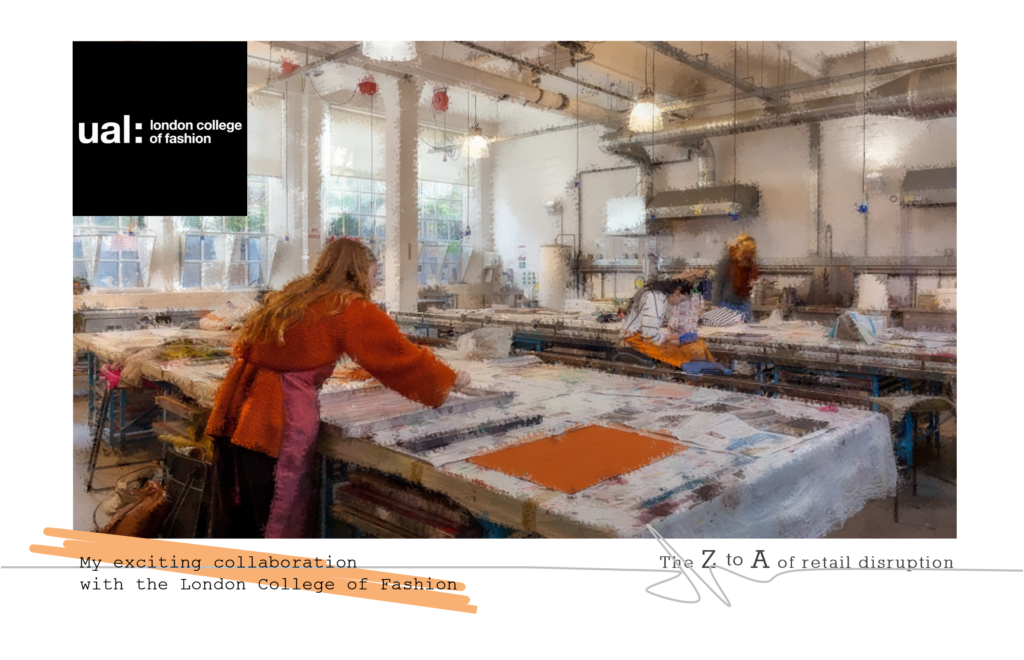 Pleased to announce that I'm working with the London College of Fashion this Autumn, as part of their Collaborative Challenge Industry Partner Programme.
The fashion industry is more exciting and dynamic than ever. Students entering this world, across a wide range of disciplines, now need to be fully prepared and be able to collaborate and integrate with a variety of internal teams and external partners.
With this in mind, we have prepared a course project that both encourages students to excel and contribute their chosen specialist disciplines, whilst also learning how to work as part of a creative and commercial team, alongside their colleagues.
Their challenge is to transform one of a number of LCF alumni fashion brands into a physical customer proposition and retail space. To work seamlessly and efficiently from brand inception to customer delivery.
• Brand Partner Selection
• Brand Creativity & Communication
• Assortment Curation
• Customer Definition & 'shop' selling strategy
•             Physical shop location strategy
• Physical and/or Digital Shop Design
• Marketing & Publicity
I'm so looking forward to seeing the creativity and ideas of students from such a diverse range of courses – fashion journalism, fashion film & digital production, strategic fashion marketing, fashion photography, global fashion retail, menswear, womenswear, fashion design and performance, artefact, footwear, fashion futures, fashion curation, fashion design management and psychology for fashion.
It certainly promises to be a very stimulating few months, for the students, the lecturers, and for myself. Can't wait to see their endeavors come to fruition.
I totally believe that the project will help them to understand the many facets of the modern retail world and prepare them for exciting careers in the new commercial landscape.
On with the show…


In the meantime…
Assortment planning and curation is featured in the new book – 'Meaning in the Retail Madness – How to be an Essential Retailer'
If you'd like to read my book for many more retailer insights and best practice. And to here my thoughts on retail's future, then that's an excellent idea.
I hope that the sections on how to flourish in the 'The life and times of the Essential Retailer' how to evolve 'Agile Organisations' and excel in 'Astute Strategies' may be a source of inspiration and guidance. You will also find 70 action plans and 90 retail best practice insights that may help you to assess your current weaknesses and opportunities.
Enjoy your read.