Bespoke interactive workshops
Collaboration, cooperation & integration are the absolute essentials for disruptive retail success. Bespoke interactive workshops create the perfect environment for client teams to listen & learn, to discuss and develop new and better ways to work together. The key to effective workshops is to research and customise beforehand. To develop the most appropriate format, structure and content for every workshop. Bespoke workshops run hand-in-hand with remote eLearning modules to ensure that the lessons are not left in the classroom.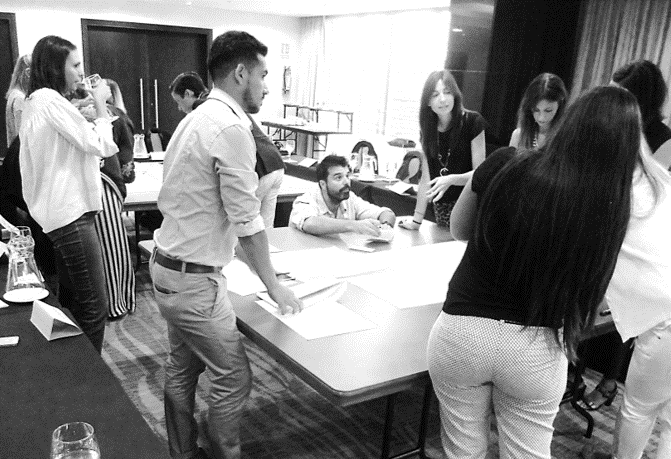 'Discover the catalyst for your business & performance improvements

It often takes an external partner to be the catalyst for change. I have carried out retail workshops across the globe, where clients teams and myself have worked our way through many of the elements known to retail.
Walgreens, Ferrari, Adidas, AllSaints, Ray-Ban, Nespresso, Bata, Carrefour, Max&Co, Camper, Jack Jones, Boots, Cortefiel, Springfield, Code, Sonae, Worten, Zippy, Otto Versand, BonPrix, World Duty Free, Sprinter, La Caixa…KappAhl, Flex, Latteria Soresina, Gruppo Vestebene, Alessi, Eroski, Gruppo Coin, OVS, Heatons, Portaventura, Imaginarium, Northumbria University, Bialetti, Max Mara Group, and Baltika
We have discussed issues ranging from developing & delivering better physical shops, improving operations, integrating channels, to buying more commercial assortments, evolving agile organisational structures, and training dynamic and engaged employees.
Learn from my 25 years of retail experience as I explain current retail trends & insights and inspire with new & original perspectives on how to be a commercially successful modern retailer.
Tim Radley can add "skilled reader of rooms" to his list of accolades. While his presentation was focused on global trends and the unpicking of these to suit a specialist sector like ours, he deftly turned these predictions and forecasts around, and on their heads, to acknowledge that the answers were in the room with us all along.

Alan – Health Stores Ireland
'I've been doing this job for 25 years, and today I learnt more new things than I ever thought possible.'
John – Retail Director, Boots Retail, Nottingham
Listen to this extract from 'The Complete Retail Entrepreneur' eLearning course. Tim Radley explains why traditional best practice functions need to be retained alongside new & disruptive mind-sets. Launching soon in the Autumn of 2023.

Bespoke retail workshop content

The key to effective workshops is to research and customise beforehand. To develop the most appropriate format, structure and content for every workshop. The content creation, scheduling, exercises and interactions are all flexible. They will be tailored to your needs after in-depth discussions.
Some popular module themes:-
'Shop of the Future'

Omni-channel strategies, touchpoints & integration

Physical location planning, shop grading & clustering

Buying & merchandising & assortment structure planning

Supply chains & sustainable sourcing

Space planning and allocation

Shopper environmental design & customer experience

Product story segmentation, display & visual merchandising

Visual communication, digital signage & display

Marketing, events and promotional delivery

Store operations, staff schedules & routines & operational technology

Logistics, distribution & delivery planning

Shop teams skills planning, colleague training, learning & development
Every workshop is created and delivered to each client's individual needs and requests.
The scope, timing, resources and process is agreed after an initial discussion.
To have that first discussion, email me at tim@retailmeaning.com
---
Introducing
R E T A I L M E A N I N G
Professional e-learning courses designed to provide real-time expertise across a range of retail specialisations, strategy, management and operations.
Delivering the knowledge and insights required to survive and succeed in today's dynamic & disruptive retail world.
Educating & Inspiring a new age of retail leaders & entrepreneurs.
R E T A I L M E A N I N G eLearning will be launching very soon, in the Autumn of 2023.
Please contact me to show your interest, or ask any questions…
Email me at tim@retailmeaning.com