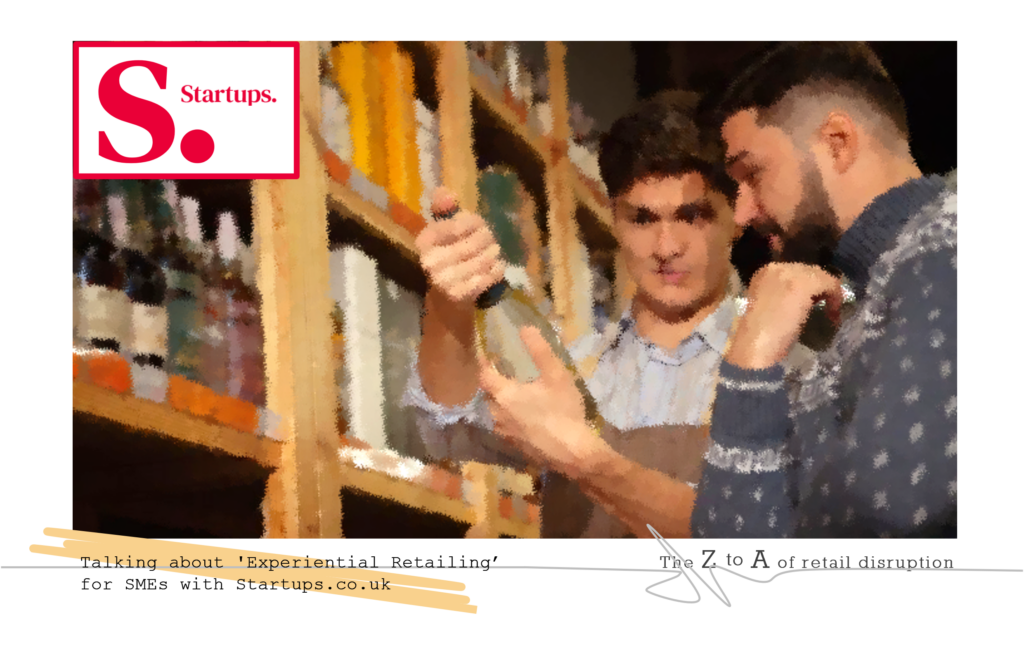 Very pleased to have collaborated with Startups.co.uk on an article about Experiential retailing.
Thanks to Helena Young, for inviting me to contribute.
Of course, creating and delivering a good customer experience is so important for every retailer. But will it be the saviour of the high street, the knight in shining armour for independent retailers?
Well, not necessarily!
As with many aspects of the shop environment, 'Experiential Retailing' has also become something to copy. Something to emulate from best practice competitors.
To have a modern space, atmospheric lighting, cool graphics and engaging music is no longer a USP in itself. And neither are shop events, demonstrations, tastings, and the conversations of over-keen sales assistants.
It is easy to become blasé and weary of retail razzmatazz. So, when does the application of apparently the correct tools for Experiential Retailing begin to backfire? When does fabrication and artifice lead to poor experiences?
The key ingredient for commercially successful 'Experiential Retail' is authenticity. True experiences must be genuine!
That is why the best experiences come from two things. Genuine brands, and genuine people. In the best businesses the two are not just linked, they are inseparable.
And that is why retail environments and experiences drawn from passionate people, making unique and attractive products in compelling and appealing ways, are the ones that always steal the show, and the customers.
These are the brands that are born from passion. Where often retail, and even the products themselves, are a bi-product of a deeper love.
When you meet people and brands like these their enthusiasm is infectious. The experience is genuine and lasting. The customer becomes part of the passion. And retail just flows naturally.
Here's the full article from Startup.co.uk

Experiential retail: what is it and how can you get involved?
Experiential retail is paving the way for a high street revival, enticing customers back in-store with an offer they can't refuse. We outline how SMEs can tap into the trend.
We've seen headlines about the decline of UK high streets for years. But it was the post-COVID boom in ecommerce that really sent commentators into a spiral, with many prophesying that in-person shopping was doomed to go forever out-of-style.
Thought leaders have traditionally typecast brick-and-mortar stores as slow to innovate. Online is supposedly where the excitement is at, with big-name chains like McColl's among those that have been sent into administration this year.
But in truth, retail hasn't gone away. Floor space is instead being dedicated to an area where savvier shop owners are showcasing real ingenuity: experiential shopping.
Below, we speak to Tim Radley, retail expert and author of Meaning in the Retail Madness, to find out more about the trend, and how SMEs can use it to entice buyers in-store in the online age.
This article will cover:

What is experiential shopping?
Upon first hearing, experiential retail is one of those expressions that could mean anything. After all, wherever you go into a shop, you have an experience – good or bad.
To understand what the phrase really means, business owners need to think back to last century. Pre-2000, sellers simply put products on shelves. Interaction was kept to a minimum, and customers didn't stick around for any longer than required to purchase their items.
Suddenly, it all changed. The dot-com boom saw hundreds of firms move online. Sites such as Amazon drove people away from the high streets and dramatically reduced footfall.
Crisis drove innovation, and the resulting competition for in-store customers gave birth to the concept of experiential retail. With a focus on delivering customers a memorable encounter, it is all about offering an incentive for shop visitors beyond their purchasing desires.

The imperative to invest in customer experience has only grown as a result of the global pandemic. Radley credits months of national lockdowns as having given the general public a revived interest in connecting with brands.
"There has to be a reason why people would want to come into your shop," says Radley. "It's too competitive now to just put stuff on shelves and hope it will work because it won't."

Last year, a survey by Barclaycard found that nearly two-thirds of consumers in the UK had chosen to buy closer to home during COVID-19, leading to a 63% rise in spending at specialist food and drink stores such as butchers, bakeries and greengrocers.
"Customers appreciate going into shops and talking to people much more than if you're just selling the product," says Radley. "People have come back to liking being with people and trusting people."
Why should small businesses engage in experiential retail?
Experience shopping might have been classed as innovative pre-COVID. Now, however, it's seen as the norm for retailers.
Model businesses include Hobbycraft, which hosts masterclasses for people to learn a new interest – simultaneously promoting the products they'll need to pursue it.
Dojo's 2022 market report shows that a third of UK consumers are now looking for a memorable experience when shopping. Even more excitingly, buyers are prepared to pay 28% extra for it, on average.
So how can it be done? And in today's economic climate, how can it be done cheaply?
If you're a small retailer asking these questions then fear not; most SMEs already offer better experiences to their audience than big businesses.
"Small businesses do [experiential retail] more naturally," says Radley. "There's a local community around the shop so you're already involved in creating relationships between the brand and the people who come into it, rather than just serving."
That said, Radley stresses there are still steps that SMEs can and should take to improve upon this advantage and develop their brand-customer interaction even further.
Such ambition is key for growth, particularly today. The ability to attract audiences will have a big impact on the businesses that manage to outlive the impending recession.
In fact, our guide to how to survive a recession highlights the importance of using market trends like experiential shopping to stay ahead of the competition during a slowdown.
How do I offer experiential shopping?
Prioritise authenticity
Pinpointing exactly what makes a business authentic is difficult. Radley's definition centres around being truly passionate about what you are providing.
To illustrate his point, Radley picks out Borough Market in London, which is filled with artisan stalls selling everything from cheese to cured meats.
At Borough Market, Radley says consumers can "chat to [stall owners] about the products, they'll give you a taste and some even offer courses for those wanting to learn butchery."
Here, Radley highlights that authenticity is about not just copying ideas from a rival you see, but tailoring them to your own unique brand story.
Vans opened up a pop-up skate park last year to help publicise its latest product. Given the brand's target clientele of skateboarding enthusiasts, this was a great option that fit well with the story Vans wants to tell its customers.
But what if the same stunt had been pulled by another shoe brand? Say, the sandal manufacturer, Birkenstock? It would have felt gimmicky and ill-fitting.
Instead, small businesses should tailor the experiences offered to their brand identity. Local firms could organise a community-based event, for example, like a cycling retailer hosting a sponsored bike ride.
Tailor your talent to get the best salespeople
Modern website builders have revolutionised the web-based sales representative. Buyers today interact instantly with faceless chatbots available 24/7.
Admittedly, this helps to massively speed up the purchase decision process. But one of the main reasons that people will choose to visit a physical shop – rather than the huge range of internet options they could attend to instead – is to be greeted by a friendly, human face.
Indeed, Radley tells Startups that an overreliance on technology is where experiential retailers have gone wrong in the past.
"[Shops installed] interactive screens all over the place," he recounts. "They just became graveyards with video screens, because nobody really likes using them unless you're standing with the shop owner and you're using it together."
Don't just purchase a bunch of iPads that customers can use to place orders on. Instead, hire sales people who are passionate about the products you're selling and train them to act as a knowledge base for buyers.
Radley highlights a traditional butchers shop as an example of a skilled salesperson that can guide a customer through the buying process.
"You go into a butcher's shop and they immediately will say, 'I've got the most beautiful cut of meat for you'," he grins. "They're salespeople, but you enjoy seeing them. I wouldn't say it's friendship, but you're edging towards that kind of realm."
Craft a communal experience with other SMEs
Many shoppers are looking for a product to buy, not the specific store to buy it from. Oftentimes, they will flock to the location that gives them the most options to choose from.
This is why the early 2000s saw destination shopping centres like London's Westfield or Manchester's Trafford Centre steal footfall from local high streets.
Working together with your fellow nearby shops is another valid way to engage in experiential shopping. As Radley clarifies, "you can turn yourself into a destination through those partnerships."
Radley cites the recent sales-booting Platinum Jubilee celebrations as an exemplar of this new breed of selling.
Stores across the country hung bunting and used similar window dressing to attract mass tourism. Some even coordinated their social media marketing to make a bigger online impact.
"If you have a group of local retailers who all work together, that's where you create an experience in a location," Radley affirms. "Nobody goes to Borough Market for one cheese shop. They go there for a communal experience."
Invest in the right technology
Dojo's analysis into the UK experience economy highlights the need to "create memorable experiences at every consumer touchpoint".
There are cases of experiential selling that have involved lots of expensive tech investment (read the giant Asics store in central London which boasts a treadmill for shoppers to test out the trainers on).
Still, for budget-conscious SMEs, new technology should not be introduced simply for the sake of it. Instead, each purchase should be targeted to fix a specific pain point encountered by your audience.
For retailers, Radley picks out mobile POS systems as a must-have to create a seamless purchase journey for buyers. If there is an issue with payment at the end of the service, it can undo all the positives encountered during an experience.
"You've got to facilitate how people want to pay," he tells Startups. "Mobile card readers have revolutionised the payment process and now [even at] pop-up shops or market stalls you can pay by card or by phone."
Similarly, consumers might enjoy shopping in person, but this doesn't mean they're not utilising other channels to assist their purchasing decisions.
If you also have a website or social media presence, you can improve customer satisfaction by facilitating smooth transitions between your website and your offline offerings.
For example, if you decide to host an in-person event then upgrade to a website builder that can take online bookings. This will give your audience as many options as possible to engage with your brand.
What if I'm an ecommerce store?
For those ecommerce or hybrid sellers that flog their products and services online as well as off, there are still plenty of opportunities to offer a unique experience for buyers. One of the biggest being the 'pop-up' shop.
As a temporary storefront, pop-ups cover everything from a market stall, to a short lease of a building on London's Oxford Street. The only qualifying criteria is that you aren't planning to stay open permanently – automatically encouraging engagement as customers are fearful of missing out. That being said, they require a thoughtful approach to achieve the best result.
Beauty brand, Glossier is an exemplary case study for a pop-up done properly. Despite being worth around £1.5bn, its Covent Garden store is only open for a limited period each year.
Kept small and simple, millions travel to the shop every year to take photos in front of its trademark, pastel pink installations. But only a small range of the top-selling Glossier products are ever on display.
Radley says that pop-ups are 90% about marketing, 10% about selling. "They should be a showcase of your brand that makes a simple, bold statement about who you are", he says.
Another motivation behind pop-ups is to enable online brands to interact with new and existing customers in the flesh.
Jenny Blyth is founder of Storm in a Teacup Gifts, a bespoke gift subscription service. As the owner of an online business, Blyth uses pop-ups to "touch base with our customers. Our business prides itself on its online community so we love to connect with them when we can."
Blyth says that timing is essential when it comes to planning a pop-up. Weather, holidays, and even nearby events can have a huge impact on the number of new customers who interact with your brand.
"You have to do a bit of research about who your customer is [to know] when your customer will be there," confirms Blyth. "We know now that the time and day we choose will very much dictate the customers we are targeting and that's a big learning curve."
Social media is an excellent tool for attracting customers to a pop-up. Target your current customers first, encouraging them to bring friends and family. But you can also use nearby event groups, community forums, and even local press to draw in new parties.
According to Blyth, you aren't likely to make a lot of money through pop-ups. However, "if you have connected with just one new potential customer, it will have been worth it."
What is the role of the physical shop in 2022?
The popularity of the humble pop-up shop says a lot about the direction that consumer demand is going in. While online sales continue to dominate, people will still see a one-on-one, memorable interaction with the brands they like as time well spent.
Be a friendly face for customers. Offer them a personable greeting or product knowledge. All of these tips might sound obvious, but implementing them will go a long way to improving a customers' retail experience.
Of course, small businesses cannot forgo the transactional element of a sale entirely. Ultimately, shoppers are still there to discover and buy products, not to make a friend.
Still, by positioning knowledgeable salespeople alongside the right technology investment, SMEs can curate an authentic retail experience that gives shoppers a reason to visit brick-and-mortar stores over the internet alternatives.