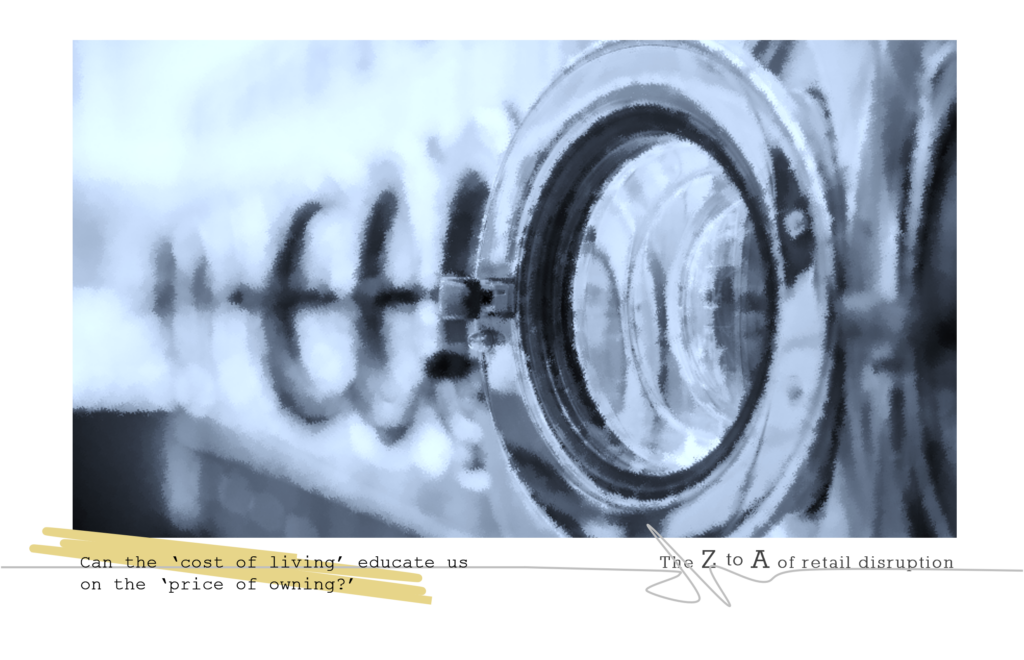 The 'cost of living' crisis affecting all of us, is an opportunity to educate everyone on the wider sustainable issues around the things we buy and own.
There are of course so many powerful and compelling reasons why we should think more deeply about the repercussions of what we buy. The environment, climate change and the ethics behind how we respect workers' conditions and rights are fully in the news again. This time, it is the floods in Pakistan and the UN report on China. But the disasters and the stories will keep on coming.
However, as consumers the messages that often bombard us generally apply either to the supply chain of the product before it reaches us, or the final resting place of the product after we have finished with it. Recycled materials, ethically produced products, sustainable production, recyclable processes, are the key words and phrases that fill our inboxes and fuel our awareness.
The problem in terms of converting this awareness into lifestyle changes and actions is that it relies on the emotional reaction of the individual. In terms of real repercussions to our daily lives, the consequences of buying one product against another are still generally small. Even accounting for the very real and obvious changes to our weather patterns, and the frequency of droughts and floods in our back yards, the perception is that we do not suffer or benefit directly from our choices.
The missing link has been an awareness of the cost to us as individual consumers, whilst we own and use our products. The part of the products lifecycle which is most personal to us. Most real for us.
Now, for the first time, there are very real and personal repercussions from our product ownership. And with the 'cost of living' crisis now firmly focused on fuel and energy prices, those repercussions are financial. And the financial lessons are hard.
Frozen food retailer Iceland announced last week that is has collaborated with Utilita Energy, in an initiative designed to promote energy-efficient cooking. Iceland is to include energy-saving cooking guidance on food packaging to help consumers cope with the soaring cost of living. Utilita research has shown that "households reliant on oven cooking could save up to £604 per year by switching to more energy-efficient cooking methods", such as air fryers, microwaves, and slow cookers.
Of course, energy savings are not just beneficial to the individual energy consumer, but they are beneficial to the wider energy supply chain, which still relies heavily on fossil fuel extraction and results in high carbon emissions.
The advice for consumers on cooking could also be extended to discussions on other price savings, whilst you are in ownership of your food. Not just the cost of cooking, but the cost of frozen storage, chilled storage, defrosting, driving to and from shops, and so on. The train of thought goes further. Possession of fruit & vegetables whilst you are growing them in your garden is not just a cost saving in your kitchen appliances, but is a veritable joy, as well.
The fashion sector is ripe for such education. Standard product care ticketing has been around for as long as commercial manufacturing. However, its reasoning is to avoid inadvertent destruction of clothing in the first washing cycle. Insurance against returns. To maintain short-term wearability rather than encourage long-term ownership.
The definition of sustainable clothing should not be restricted to its production from recycled materials made in ethical factories, but to products which require less washing, less specialist and intense washing, and are happy with shorter and natural drying processes. Their fibres will keep you warmer for longer, without the need to rely so much on your central heating. Their timeless designs will allow you to wear them proudly in public, long after the short-term fashion trends and intensive washing cycles have passed.
It is time to communicate not just the retail price, but the cost of ownership. Where a product for life, is a product that delivers a lifetime of financial cost savings.
Sadly, the reality in terms of changing buying habits, is that immediate and real cost savings will have more impact than distant emotional motives, no matter how virtuous. The way to buying better for the planet is now intrinsically linked to buying better for ourselves.
Saving the planet means saving money. The 'cost of living' crisis is an opportunity that we literally cannot afford to miss. To benefit everyone, financially and environmentally.
Whether we enjoy our ownership, are seduced by cost savings, or recoil at the repercussions of our possessions, we can all move to more responsible relationships with the things that we buy.


In the meantime…
Assortment planning and curation is featured in the new book – 'Meaning in the Retail Madness – How to be an Essential Retailer'
If you'd like to read my book for many more retailer insights and best practice. And to here my thoughts on retail's future, then that's an excellent idea.
I hope that the sections on how to flourish in the 'The life and times of the Essential Retailer' how to evolve 'Agile Organisations' and excel in 'Astute Strategies' may be a source of inspiration and guidance. You will also find 70 action plans and 90 retail best practice insights that may help you to assess your current weaknesses and opportunities.
Enjoy your read.