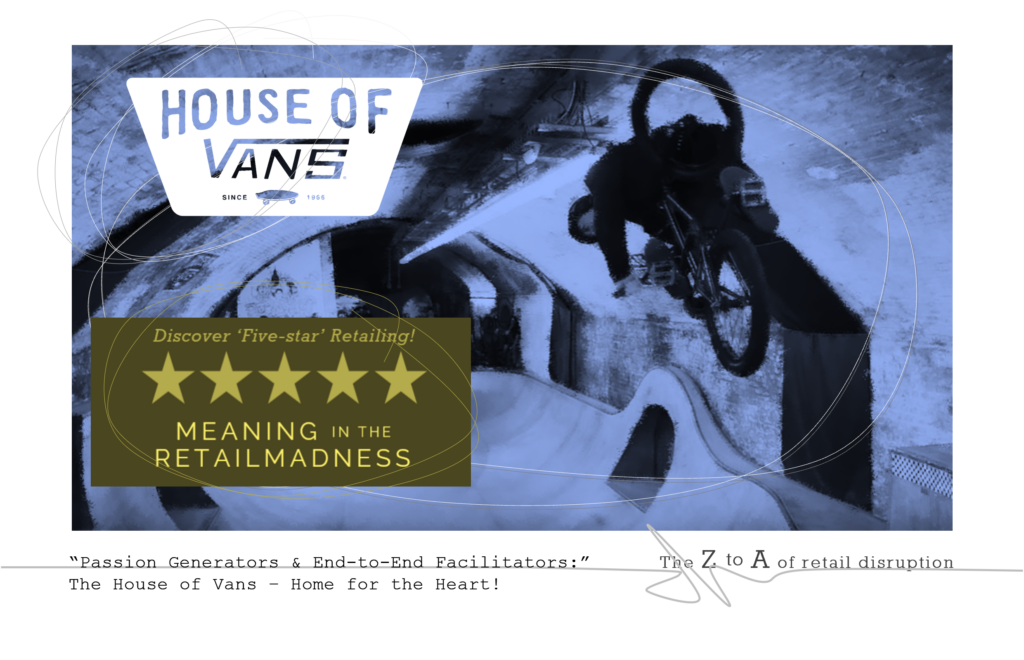 Join me, Tim Radley, in "Meaning in the Retail Madness," discussing how retailing without passion is alienating consumers, and handing customer relationships to distributors.
Modern retailing is so complex. It is now almost impossible to be an engaging brand & product innovator, and also best practice distributors of communication and physical stock.
The game changing model involves 'Passion Generators' & 'End-to-end Facilitators.'
Allowing retailers to focus on building product authority and brand inspiration, whilst letting facilitators get on distributing customer engagement, and physical fulfilment to the shop floor and customers doorsteps.
Read the full article in 'Meaning in the Retail Madness,' where we look at a classic 'Passion Generator,' – Vans, and their unique 'House of Vans', located under the arches of Waterloo Station.
Vans want to celebrate their customer's lifestyle. To feed the passion surrounding its products. House of Vans aims to celebrate creative expression, through art galleries, live music, cinema, bars, and cafes. 'House of Vans' also contains its very own artist incubator space – VansLab. This is a free workspace for budding artists. There is space to indulge your passion, and then art gallery space to show your creativity to the world.
House of Vans is also two indoor skate parks, facilitating their customers' more active passion, for what after all is a famous street wear brand. It does no harm to be reminded of the passion of Vans, a passion of the streets, through the energy and enthusiasm of street art and skateboarding.
The 'Passion of Vans,' is alive and real, even as we sit in front of our Amazon screen to select our next sneakers purchase. 'Passion Generator' & 'End-to-End Facilitator' working together for the customer.
Read more about Vans and other ground-breaking 'Passion generators' in 'Meaning in the Retail Madness,' and learn how they are changing the face of retail.
'Meaning in the Retail Madness' also explains how touchpoints have replaced channels, how linear supply chains will become circular, why assortments are increasingly virtual, how physical is turning to local, and why products and shops are not necessarily made for each other anymore.
It supplies a blueprint for retail's new 'agile organisation,' its structure and its processes. How retail must integrate people with technology, generate commercial sales through sustainability, stimulate customer loyalty through ethical behaviour, and achieve profit without profiteering.
The definitive 'Z to A' of Retail Disruption.
Discover over 90 Retailer Insights – from Zara to Amazon, Zalando to Aldi, and 70 Action Plans for your own business – from 'Zooming & Zoning' to 'Allocation & AI.'
'Meaning in the Retail Madness' is a book of its times, that will remain a guide and inspiration for years to come.
Available across Amazon and all leading online book retailers
"An excellent read *****"
"Valuable reference for anyone in retail *****"
"This book is more relevant now than ever! *****"