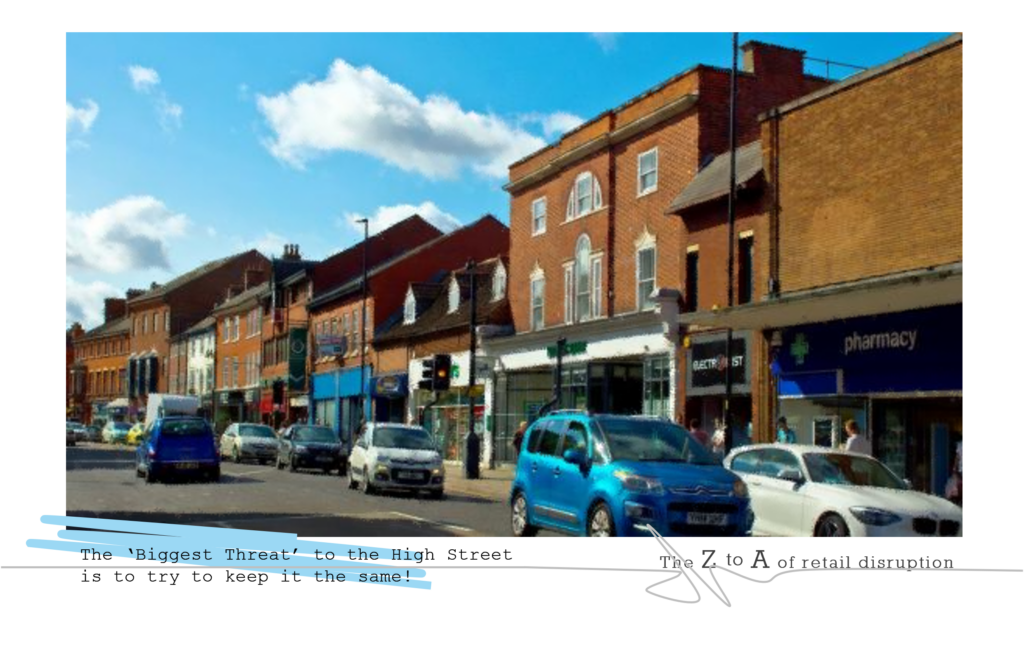 The 'Biggest Threat' to the High Street is to try to keep it the same!
I am often asked, 'What are the biggest threats to the High Street?' I am asked by multiples who are trying to work out whether their current and future strategy and investment in town centres is correct, and by new brands who are looking to launch and develop a physical High Street presence.
For me, the 'High Street' represents a unique opportunity for many retailers and other organisations, a vibrant commercial melting pot, for all that is good about new retailing.
The High Street should not be for shopping! The High Street should be for Living!
The UK's fondness for shopping as a favourite leisure activity has been fuelled by a desire for possessions, and driven by short-sighted town planning that decided to separate the areas of peoples lives. We live in one place, we drive to another to work, we drive to another to shop, and another to educate our children…
The High Street just about survived as a shopping place but was weakened by other new shopping places like retail parks and shopping centres. But the fact that its only use had been distilled down to shopping weakened its original proposition and diluted its true value to a town, to the point where the convenience of online shopping has blown it away.
High Streets should no longer be part of the unnatural segmentation of people's lives, but at the very heart of their existence.
The High Street should not just be built around people, but to be literally re-built for people, and by those very same people. Metaphorically, and literally – 'Brick by precious brick'
A community enterprise where retailing is one part of a rich mix of essential and lifestyle businesses…affordable community housing, public services, education and training, business hubs, green space and communal areas, hospitality, food and drink, gyms, libraries, leisure centres. With retailers and services to support this vibrant life-mix – brands, chains, independents, locals, artisans, growers, re-sellers, re-cyclers, repairers and renters, investors, entrepreneurs and charities.
So, my answer to retailers, both established and new, is yes, invest in the wonderful opportunities that High Streets represent. But only if you are willing to integrate and contribute to the community and the society into which you sell.
This fabulous future does not prejudice against multiple chains, local shopkeepers, young entrepreneurs, charities, social enterprises or any other meaningful business that wants to be part of this rich fabric.
Because success will not be built by looking backwards, or scrutinising where businesses have come from, but on communities of people and businesses that are looking forwards together, and who are judged on their willingness to contribute, as well as to profit together.


In the meantime…
Intelligent 'Retail Intelligence' is featured in the new book – 'Meaning in the Retail Madness – How to be an Essential Retailer'
If you'd like to read my book for many more retailer insights and best practice. And to here my thoughts on retail's future, then that's an excellent idea.
I hope that the sections on how to flourish in the 'The life and times of the Essential Retailer' how to evolve 'Agile Organisations' and excel in 'Astute Strategies' may be a source of inspiration and guidance. You will also find 70 action plans and 90 retail best practice insights that may help you to assess your current weaknesses and opportunities.
Enjoy your read.