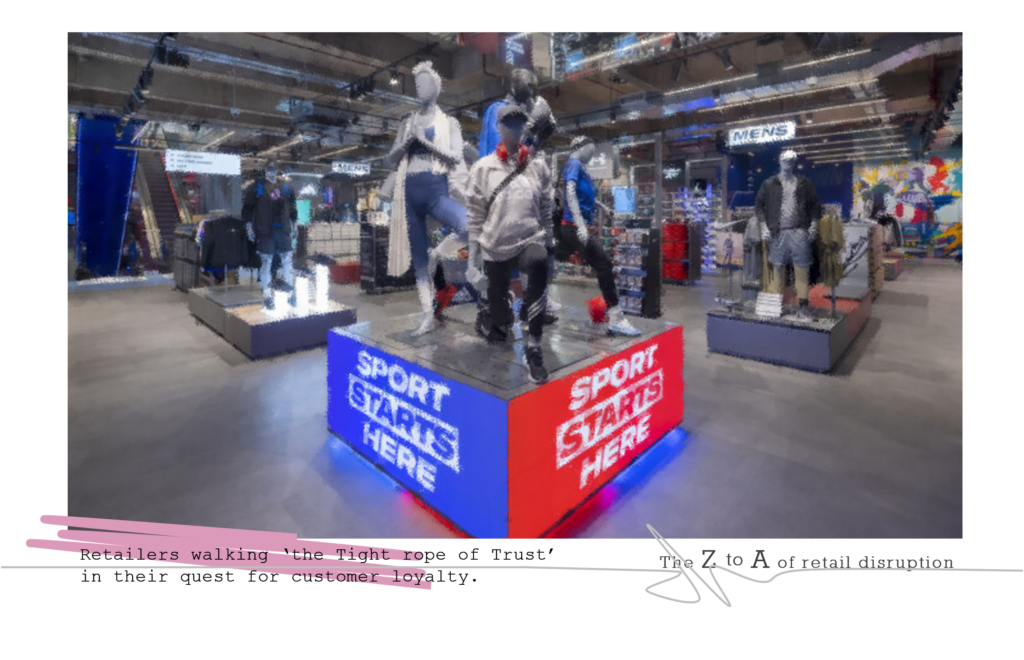 Retailers walking 'the Tight rope of Trust' in their quest for customer loyalty.
Interesting to hear that Frasers, which has evolved out of the Sports Direct brand, is planning to launch a loyalty club and subscription. It hopes to emulate the likes of Amazon Prime.
Amazon has an enviable stable of content and benefits that make the annual Prime membership of $100 or so good value, from low prices, huge choice, free delivery & returns, to Amazon music, Amazon video and a growing stream of award-winning exclusive entertainment.
And to be fair, the Frasers Group has been growing its own house of attractions, not only fashion brands but also names such as Game that offer entertainment and community. It also has the potential through Sports Direct to leverage its own unique entertainment in the world of sport and sports brands, leisure, hobbies, and pastimes.
Without doubt Amazon benefits hugely from our signature and consent, as much as our subscription fee. The data has helped it to form unique profiles of its customers, which are used to personalise our shopping journeys and communications. Amazon makes money from us, but that is part of the deal. On the 'Tight rope of Trust' Amazon gets our balance of benefits just about right. What we gain is fair for what we give.
Frasers loyalty club will also undoubtedly benefit Frasers. It is true that a customer benefit will be the seamless processes between its brands and channels, which will in theory give us a smoother shopping experience, and hopefully some enticing promotions. But for that we will need to give Frasers, just like Amazon, our personal details, our preferences, and our shopping profile. Are we ready for that?
After all, liking Amazon is not the relevant question or even the pe-requisite for being an Amazon Prime member. It is Trust that counts. And millions of customers trust Amazon enough, to literally deliver on their promises behind Prime.
Personally, my trust was won when I first returned an Amazon delivery, for free, and to my surprise and pleasure, Amazon refunded the money directly into my bank account before I had even posted my parcel back to them. Amazon trusted me, and now I trust them.
It is worth comparing this with Frasers, AKA. Sports Direct. Sports Direct to this day still does not accept customer returns. They only offer credit notes and exchanges. This is not only a practice that belongs in the 20th century, but it undermines any possible trust.
Is this because they do not trust the quality or sizing of their products, so they know returns are likely? Are they declaring that they do not trust their customers to honestly return products, unworn and for legitimate reasons?
Either way, why should I trust Frasers to deliver on the promises of my subscription. To honour the agreement, and accept the blame, not to hide behind the small-print, when things occasionally do not go as planned? To keep my personal data safe and use it primarily for my shopping benefit, and not just as a sales advantage?
In the end, is it unfair to judge the lofty ambitions of Frasers? For, as the old adage goes, 'from tiny acorns mighty Oak trees grow.'
However, is it also worth remembering another nugget of wisdom. That 'the fruit never falls far from the tree!'
I suspect Frasers, AKA Sports Direct, still has much work to do to establish the level of trust required by many of us before we are willing to enter this new symbiotic relationship.
Time for them to build a large safety net of benefits, offers, entertainment, products, and customer services, all held together with unbreakable trust, to ensure we all avoid a few hard landings.


In the meantime…
Intelligent 'Retail Intelligence' is featured in the new book – 'Meaning in the Retail Madness – How to be an Essential Retailer'
If you'd like to read my book for many more retailer insights and best practice. And to here my thoughts on retail's future, then that's an excellent idea.
I hope that the sections on how to flourish in the 'The life and times of the Essential Retailer' how to evolve 'Agile Organisations' and excel in 'Astute Strategies' may be a source of inspiration and guidance. You will also find 70 action plans and 90 retail best practice insights that may help you to assess your current weaknesses and opportunities.
Enjoy your read.