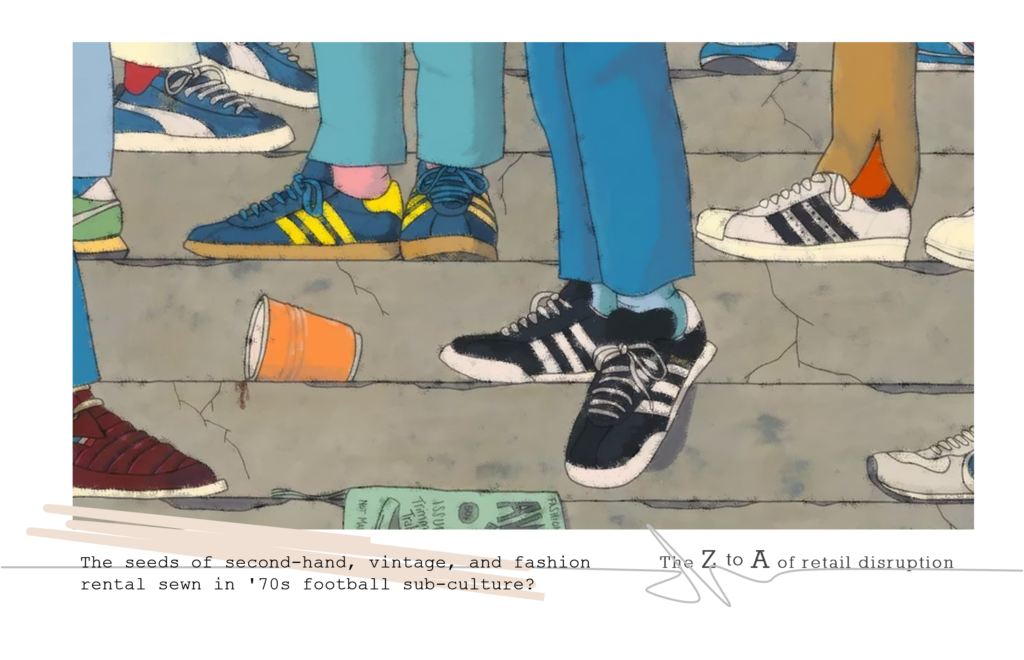 Were the seeds of second-hand, vintage, and fashion rental sewn in '70s football sub-culture?
Check out a fascinating BBC article and exhibition in Liverpool

The popularity of fashion rental and vintage re-sale is gathering pace, driven by both aesthetic and sustainable motives. A key attraction is to break away from the mainstream commercial, both in terms of destructive fast-fashion
supply chains, and the desire for individual expression in the way that we look.

Individual expression is nothing new of course, from the sixties, through the eras of punk and new-romanticism, to today's diverse fashion mix, often driven by the dynamics of music, creative arts and the sub-cultures of the day.

And it now seems that an unlikely section of society with a sub-culture based around football, European travel and 'hooliganism' may have been the initial catalyst for the adoption of sports brands as everyday clothing. A movement and obsession that now permeates every level of fashion culture and has catapulted the likes of Adidas and Nike into meg-brands.

So, the story goes, that Liverpool fans in particular, a highly successful football team in the 1970s with 3 European cups to their name, developed a taste for unfamiliar sportwear brands whilst on their trips to European matches. These were brands and products not available in the UK, often second hand. A vibrant market developed with clothing and footwear brought back to the UK, creating a community of re-sale and lending.
Apparently, the trends and dynamics were partly fed by the necessity for 'hooligans' to avoid the clear labelling of wearing team strips, whilst the weekly change of outfit avoided identification for the previous weeks troubles. This culture of evasion led increasingly to adopting brands further removed from sportswear such as Fred Perry & Ben Sherman, which cosmetically at least, separated the fans from football, and the 'hooliganism' associated with it.

But the trend also instilled an appreciation of fashion and branding into its advocates who became increasingly focused on looking good and sharp, and different from the herds of parka clad regular supporters. Saturday home matches became places to show off new styles and exclusive logos, for both men and women fans.

Fascinating. Not least because the desire for the unusual and the individual, and the complete acceptance of second-hand and borrowed goods, is what is driving the current resale, re-make, and rental markets amongst young people.

It is an important lesson for those of us who stoically proclaim the importance of sustainability.

Doing good is one thing but creating a sub-culture where doing good is creative, communal and sometimes a little crazy is what injects the adrenaline into movements that can, and must, become mainstream.


In the meantime…
'Sustainable fashion, rental and resale' are featured in the new book – 'Meaning in the Retail Madness – How to be an Essential Retailer'
If you'd like to read my book for many more retailer insights and best practice. And to here my thoughts on retail's future, then that's an excellent idea.
I hope that the sections on how to flourish in the 'The life and times of the Essential Retailer' how to evolve 'Agile Organisations' and excel in 'Astute Strategies' may be a source of inspiration and guidance. You will also find 70 action plans and 90 retail best practice insights that may help you to assess your current weaknesses and opportunities.
Enjoy your read.