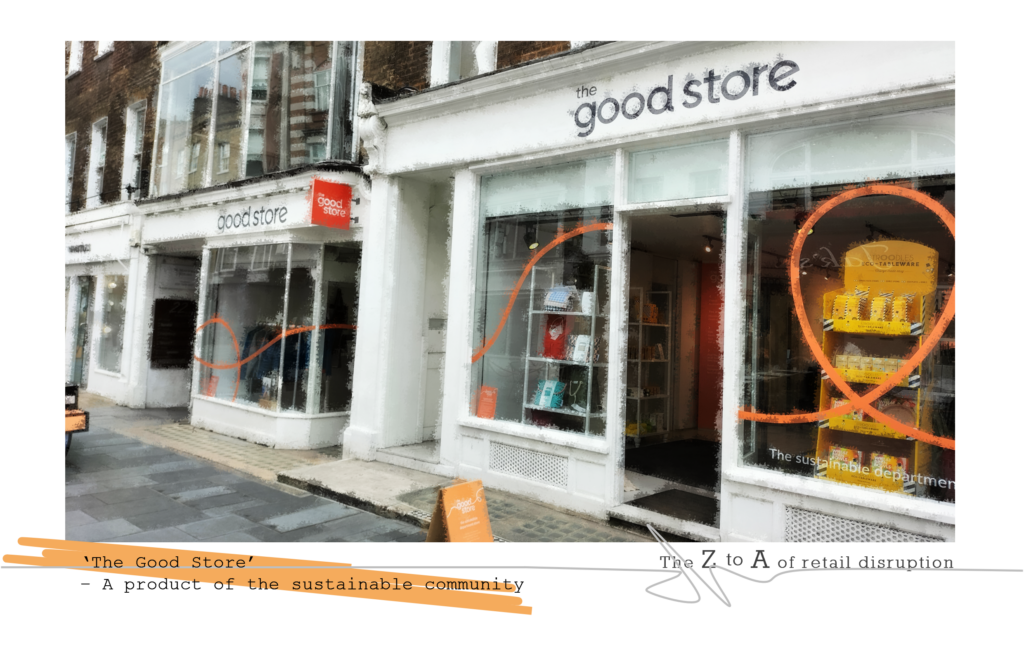 'The Good Store' – A product of the sustainable community
For those wishing to buy sustainably the problem of finding genuine brands takes time and commitment. The Good Store is a department store in central London that has curated 600sqm of space dedicated entirely to products made from recycled materials and upcycled into attractive things to buy.
The store carries a selection of sustainable products and brands across clothing, accessories, health and beauty, furniture, homeware, tech, and books.
This collection of brands represents some of the most innovative and exciting ways to turn our unwanted waste into desirable new possessions. Satisfying most people's desires for new things without the damage of creating them from virgin raw materials, employing unethical practices to achieve 'attractive low prices,' or the environmental cost of transporting plastic across the oceans.
This shop is certainly about 'value' in retail. And that value is most evident in the incredible 'back stories' behind the products on display.
Elvis & Kresse is one of my favourite sustainable brands. Through a chance meeting with the London Fire Brigade the brand now recycles their unused hose pipes, uses a unique process to make the materials pliable, and then converts them into a most beautiful range of bags and accessories. If you are lucky, you may even find the individual fire station stamp on your belt or laptop case. To complete their circular proposition Elvis & Kresse also donate 50% of their profits to a retired fire fighter charity.
However, customers are not starved of sustainable ingenuity in the Good Store.
Titanic Denim, based in Belfast, upcycles denim into a range of attractive bags, including pieces that re-use Gucci Fiat 500 seatbelts as straps and handles. Owner, Marie Nancarrow, embodies a passion for upcycling one of fashions most discarded fabrics, with workshops and education to promote the imaginative re-use of denim.
Established vintage and second-hand clothing charity Traid has an in-store section, alongside Been London, which uses sustainable leather, and the unique and remarkable Wyatt & Jack who produce items from broken bouncy castles.
Plastic-free and sustainable brands within the store also include Waterhaul, which makes sunglasses from plastic retrieved from Cornwall's coastline. UpCircle produce refillable beauty products made from used coffee grounds.
Whilst the furniture department within the store features social enterprise ThinkFound, which sources hardwood fallen or felled in London, to make the most elegant and beautiful tables and chairs.
Groundwork London have created the shop, one of a group of charities "mobilising practical community action on poverty and the environment" It has come to fruition through a partnership with the South Molton Street property owner Grosvenor.
A priority for the space is not only to highlight reuse and refurbishment, but to educate consumers on the scope of plastic-free and sustainably sourced products on offer. The shop also hosts educational events and services to guide consumers.
So, the next time you go near South Molton Street, and need an antidote from the crumbling commerciality of Oxford Street, then take a trip to the Good Store.
The minutes will fly. Save some for yourself in your quest for unique ethical products, whilst also buying much needed time for the planet itself.


In the meantime…
Sustainable Supply Chains and Virtual Inventory are featured in the new book – 'Meaning in the Retail Madness – How to be an Essential Retailer'
If you'd like to read my book for many more retailer insights and best practice. And to here my thoughts on retail's future, then that's an excellent idea.
I hope that the sections on how to flourish in the 'The life and times of the Essential Retailer' how to evolve 'Agile Organisations' and excel in 'Astute Strategies' may be a source of inspiration and guidance. You will also find 70 action plans and 90 retail best practice insights that may help you to assess your current weaknesses and opportunities.
Enjoy your read.