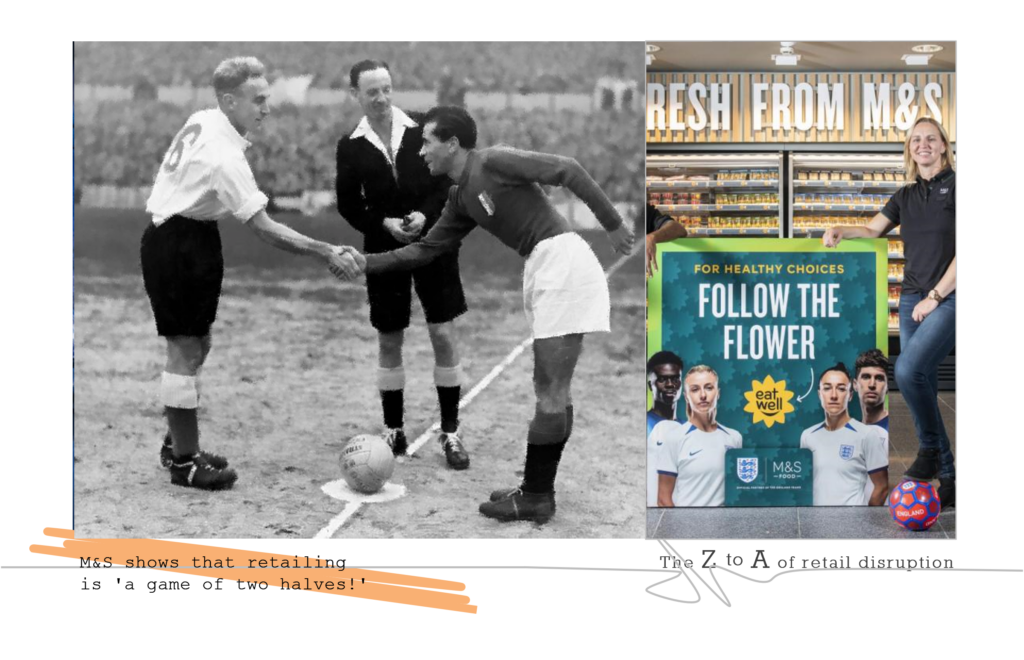 It has been an interesting few years for Marks & Spencer, and a month of vindication for its commercial strategy as it once again returned to the FTSE Top 100 of the UK's largest businesses.
It's digital-first strategy has seen it put its customer, and it's knowledge of the customer at the heart of everything it has done. The organisational structure and processes have been re-invented, cutting across traditional retail functions and departments, to develop and deliver solutions that are both dynamic and flexible. Moreover, the new way of working has allowed speedier implementation, a freedom to try new ideas, and a willingness to fail the first time but to subsequently succeed.
In short M&S has become brave, agile, fast to act, quick to learn and obsessed with satisfying its customer.
Interestingly and coincidentally there has also been plenty of negativity about the new physical customer experience. M&S has been busy re-inventing its shop portfolio. Re-locating, refreshing and opening brand new formats from superstores to food-only ultra-convenience formats.
It seems that in the clothing areas in particular the perception is that the brand has still not advanced enough with its shop layouts & visual merchandising. The customer is still predominantly faced with rows of ordered categories, tables of knitwear and walls of predictable repetition. Fare comment.
Of course, the fact is that just a few years ago M&S looked out for the count. It's sales were subsiding and its ladies fashion looked ready to give up the ghost. To get to where they are now, strategically, operationally, commercially and yes even in terms of the customer experience, is quite remarkable. It has taken bravery, commitment and a lot of retail expertise and experience.
And of course it is not as good as it could be, as it should be, across everything. And VM is still an area of great opportunity. But M&S is carefully and cleverly balancing improvements to both the functional & emotional aspects of its business.
Anyone in retailing will know that success comes from the 'Beauty & the Beast!' The beauty of customer facing experiences and the beast of operational management. Present a pretty picture without the product to match and you seriously let down an excited customer. Transform an assortment in sterile surroundings and the customer will walk straight by.
It is not the first time that M&S has had to tackle both areas side by side. Under the stewardship of Stuart Rose it improved its assortment, re-discovered its quality, and re-enabled its replenishment, whilst it also created a new brand excitement. This was the era when 'This is not just M&S…' was born to high acclaim and success.
Nor should it be forgotten that at this time M&S were the first FTSE Top 100 company to appoint a Marketing Director to board level. Emotion and function both at the top table for the first time.
The new Marks & Spencer may not have arrived yet but it is constantly on a new journey. One recent example has been the opening of its second food shop inside Wembley Stadium, the home of English football. For those of us that think only of meat pies and hot Bovril as the fayre of football matches, this shows initiative and imagination, to target, to supply, to attract and to please a whole new customer demographic.
The feeding of fifty thousand new customers should be food for thought for any traditional grocery retailer.
Playing home or away, with reliable operations and inspirational branding, functionally & emotionally, M&S is proving to us all that successful retailing really is a 'game of two halves!'
---
Introducing
R E T A I L M E A N I N G
Professional e-learning courses designed to provide real-time expertise across a range of retail specialisations, strategy, management and operations.
Delivering the knowledge and insights required to survive and succeed in today's dynamic & disruptive retail world.
Educating & Inspiring a new age of retail leaders & entrepreneurs.
Course modules:
How to make yourself essential to customers…
How to build your brand proposition & loyalty…
How to plan your road to retail success…
How to become a great retailer…
How to create customer communities…
How to sell more to your customer community…
How to achieve the next competitive advantage…

R E T A I L M E A N I N G eLearning will be launching very soon, in the Autumn of 2023.
Please contact me to show your interest, or ask any questions…