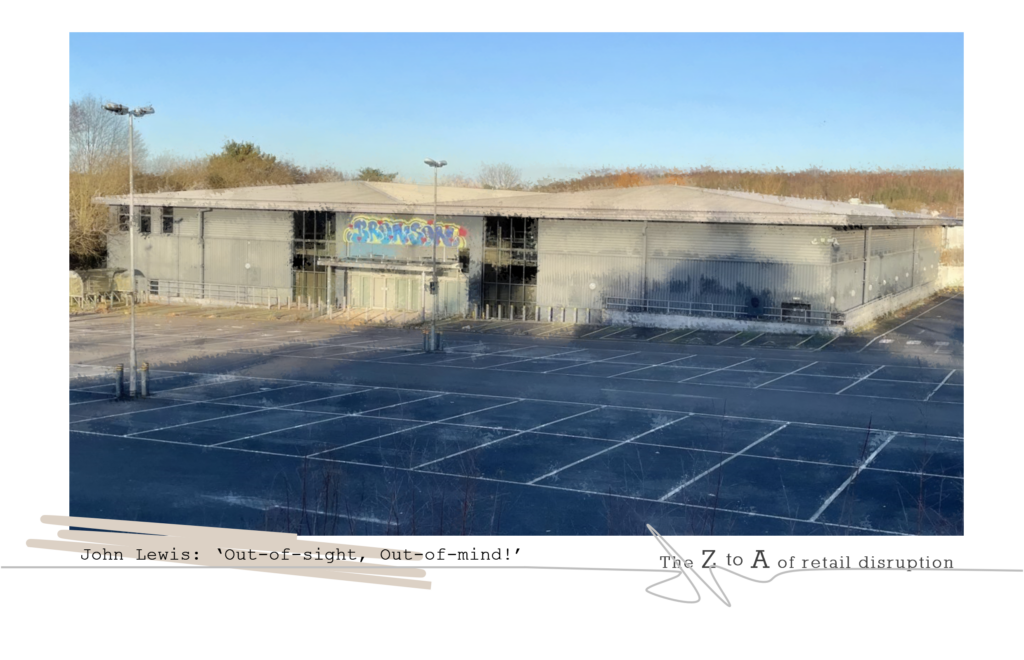 John Lewis: 'Out-of-sight, out-of-mind!'
Tunbridge Wells, or to be correct Royal Tunbridge Wells, is John Lewis heartland. If you were designing the perfect town for the values and qualities of the brand, the lifestyle, the demographic, the income levels, then you would create Tunbridge Wells.
Tunbridge Wells had a John Lewis shop. We had a relatively new, but very well established 'Home shop.' The town regularly frequented it when it wanted to refurbish its home, buy new technology, or purchase its John Lewis Christmas. It had the usual excellent and professional customer services, it drove footfall through 'click&collect,' and it had a community that was built around its busy café.
2 years ago John Lewis closed this shop. 2 years ago John Lewis reassured its loyal Tunbridge Wells customers that the website was better than ever, that customer service could be found there, and that there were several Waitrose shops within a few miles to make click&collect even more convenient.
2 years ago John Lewis left Tunbridge Wells.
John Lewis turned its back on a prime town, it turned its back on loyal customers, by seemingly not understanding or valuing the essential importance of physical shops. What remains is a graffiti strewn shed, and a sense of 'betrayal' because if there is one thing worse than not having a shop in a prime location, it is having a shop and then closing it!
Maybe this represents the wider malaise in a business that seems to have lost its ability to think like a retailer. It makes once unimaginable and fundamental mistakes regarding its relationship with its customers.
It now chases new customers but forgets its existing ones. Developments with new housing serviced by integrated Waitrose/John Lewis shops are a smart idea, but not at the expense of losing existing shops & loyalty.
It now dictates to its customers how and where they can use its omnichannel touchpoints, where once it was there for its customers, wherever and whenever the customer wanted to buy from them.
It continues to break the intangible but essential 'trust' of its customers, and of its workforce. Physical shops, price guarantees and even its 'partnership' with its colleagues are seemingly crumbling away.
This is sad. It is most sad for its customers, including myself. I am still a huge advocate of the brand, and everything it once stood for. I sincerely hope it rises again from its current commercial problems.
But it is not many years ago since John Lewis and Waitrose always topped 'the UK's most loved retailer!' table. There was no need even to look at the latest version. It was guaranteed. John Lewis now fails to reach the top10, whilst Waitrose is out of the top25.
Perhaps the saddest thing of all, is that John Lewis may not be so much 'out-of-favour,' as simply 'out-of-mind' because it is increasingly 'out-of-sight!'
That would be both ironic, and alarming, for a business that now seems to value marketing over good old-fashioned physical retailing.
In the meantime…
Intelligent 'Retail Intelligence' is featured in the new book – 'Meaning in the Retail Madness – How to be an Essential Retailer'
If you'd like to read my book for many more retailer insights and best practice. And to here my thoughts on retail's future, then that's an excellent idea.
I hope that the sections on how to flourish in the 'The life and times of the Essential Retailer' how to evolve 'Agile Organisations' and excel in 'Astute Strategies' may be a source of inspiration and guidance. You will also find 70 action plans and 90 retail best practice insights that may help you to assess your current weaknesses and opportunities.
Enjoy your read.