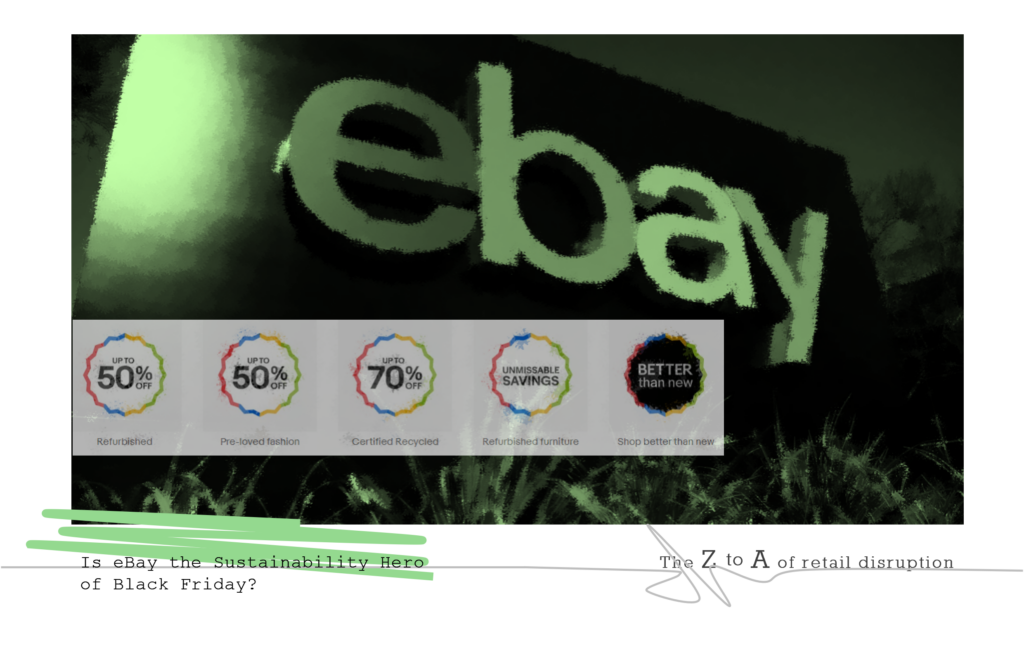 In case this sounds far-fetched we should remember that eBay began life as the online equivalent of a glorified car-boot sale.

We all spent time selecting our target products, planning our bid strategies, and we passed some enjoyable and exciting times counting down the auction clock and firing in our last-minute offers.

Before sustainable retailing became a significant movement, and re-sell was still largely restricted to charity shops, eBay was at the forefront of second-hand, an alternative to buying and producing new products.

And then with the advent of a growing marketplace of first-hand retailers, eBay diluted its purpose proposition, and lost its status as a significant if somewhat secret sustainable brand.

But this year eBay has dusted itself down and declared that it will only be promoting deals for refurbished and preloved products for Black Friday, in a bid to encourage people to choose more sustainable options and help reduce the environmental impact of the day.

Commendable and as it happens commercially savvy.

Research carried out by the Waste Resource and Action Programme, revealed that more than half (52%) of people will be choosing second-hand or refurbished products this Black Friday – with the majority citing saving money as their biggest incentive for doing so. And also, disclosed that on Black Friday last year, eight out of the 10 bestselling deals were for refurbished goods.

Despite the obvious financial incentives, eBays declaration is decisive.

So, let eBay be celebrated quite rightly as a sustainability champion. And let us also celebrate that a very sizeable retailer is actually seeing the commercial sense of focusing on second hand.

According to the research, if everyone were to shop preloved or refurbished this Black Friday, the nation would save 1.5 million tonnes of CO2 in carbon emissions and 300,000 tonnes of waste from landfill.

Now that's a deal worth bidding for.


In the meantime…
eBay are featured in the new book – 'Meaning in the Retail Madness – How to be an Essential Retailer'
If you'd like to read my book for many more retailer insights and best practice. And to here my thoughts on retail's future, then that's an excellent idea.
I hope that the sections on how to flourish in the 'The life and times of the Essential Retailer' how to evolve 'Agile Organisations' and excel in 'Astute Strategies' may be a source of inspiration and guidance. You will also find 70 action plans and 90 retail best practice insights that may help you to assess your current weaknesses and opportunities.
Enjoy your read.