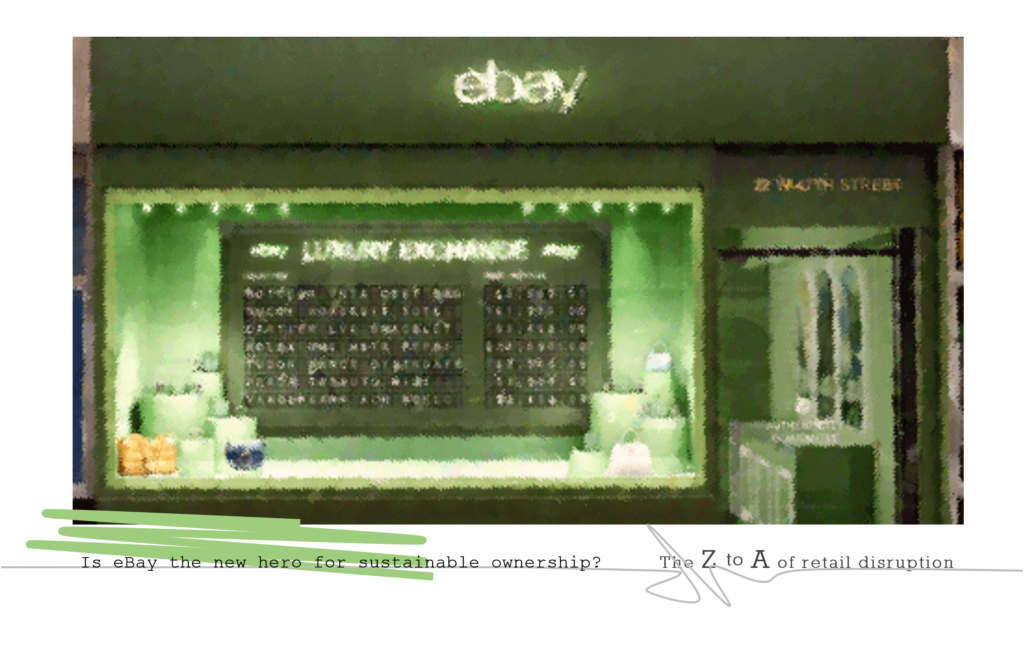 Is eBay and its 'Luxury Exchange' the new face of sustainable ownership?
The recent initiative from eBay only to promote re-sell products for Black Friday has re-established the brand as a genuine and very significant player in the world of sustainable retailing. A market that is set to grow rapidly as a hybrid of reselling, upselling, recycling, and rental.
The common thread is the principle of buying less and using it for longer, either with the same, or a number of owners. And the driver of the success will be the appreciation of ownership.
From consumers who accumulate stuff based on affordability, to owners of possessions who appreciate the value of quality and design.
An admirable objective. But whilst good intentions will drive us so far, the monitorisation of ownership, the addition of financial as well as emotional value to products is what will propel the appeal of resell and rental to the wider groups of society.
After all, we are human.
This is the idea behind the latest brainchild from eBay. The innovative and important 'Luxury Exchange' pop-up recently witnessed in New York.
For 48 hours customers could have their luxury items appraised and assigned a value with which they could then shop the store's inventory of designer watches, handbags, and jewellery. Once shoppers found an item(s) within their "currency" value, they could make the exchange and leave the store with their new luxury goods.
The 'Luxury Exchange' pop-up is a glorious physical manifestation of the more meaningful emphasis that eBay is now putting on ownership, product value, and therefore its reselling opportunities.
And whilst the luxury market is an obvious starting point, the monetarising of ownership can be applied across many price points and product categories, potentially by many brands and retailers.
Value is most simply measured as quality/price and that works for everyone.
The most valuable lesson from eBay's 'Luxury Exchange' pop-up? That the benefits of product appreciation and ownership should and must be seen across retail markets everywhere, if we really value the world that loans us its precious materials.


In the meantime…
eBay are featured in the new book – 'Meaning in the Retail Madness – How to be an Essential Retailer'
If you'd like to read my book for many more retailer insights and best practice. And to here my thoughts on retail's future, then that's an excellent idea.
I hope that the sections on how to flourish in the 'The life and times of the Essential Retailer' how to evolve 'Agile Organisations' and excel in 'Astute Strategies' may be a source of inspiration and guidance. You will also find 70 action plans and 90 retail best practice insights that may help you to assess your current weaknesses and opportunities.
Enjoy your read.