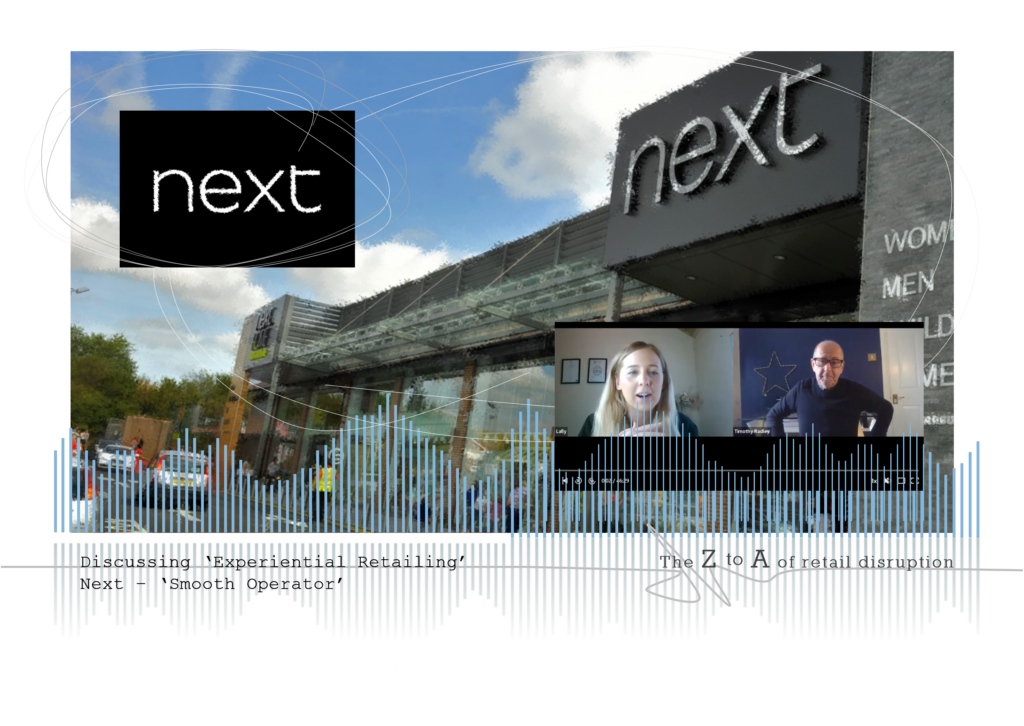 Listen to myself, Tim Radley, on the Louise Lally podcast, discussing the much vaunted but little understood concept of 'Experiential Retailing!'
Join the free podcast now through this link…Retailing with Meaning Ep1 Store Concepts (podbean.com)
The podcast features a discussion on Next, a highly successful mid-market clothing & home brand, but not one you would usually associate with the expression 'Experiential Retailing.'
The fact is that a great customer experience is not always just about drama and theatre. Sometimes it is about 'not letting the customer down' and Next are experts at that.
For many customers the key to good shop experiences is to succeed in what they intended to do, and that is not necessarily buying something. In modern retailing, across channels, the customer is as likely to visit a store to collect an online purchase, or to return items. And those customers will demand an equally exceptional experience.
Next has heavily invested in RFID technology which means it can tag every product and know its location. What it also means is that every product now carries its own personal history, not only when and where it made its journey from the factory to the shop, but also who bought it, when, and how they paid.
This all means that for us hapless customers attempting to return presents, without our receipts or our bank cards, it is not a problem. One shop scan of the bar code reveals all, and our money is refunded. Now that is a truly extraordinary shopping experience. 'Experiential Retailing' at its best.
So, take a listen to the podcast, discover Next possibly in a new light, and understand the importance of 'not letting the customer down' as an important element in 'Experiential Retailing.'
I'll also explain and illustrate with best practice examples, the many ways that shop experiences can be created, the balance of people and technology, product interaction, the importance of knowing what type of type of experience your customer wants, and most of all how to be genuine & authentic.
Topics in the interview include:
'What does Experiential Retailing' mean, and how do you evolve this for your own business?'
'What actually is a good retail experience, and is it the same for every retailer, and for each customer?'
Why Authenticity is the saviour of the high street, and not experiential retailing alone!
Are retailers born, or can they be made? Can experiential retail be effective if it is not genuine?
Why the 'Passion Supply Chain' is so important for all retail businesses to develop!
The four elements of new shop concepts – 'The Shopper Paradise,' 'The Collection Crossroads,' 'The Community Hub,' and 'The Business Centre!'
Why successful experiences only come through the balance of 'People & Technology!'

This is the first of 4 exclusive interviews Tim is giving during October. Other interviews cover:
Visual merchandising & Shop theatre
The new world for Retail people
Sustainability & ethical retailing


In the meantime…
'Experiential Retailing' is featured in the new book – 'Meaning in the Retail Madness – How to be an Essential Retailer'
If you'd like to read my book for many more retailer insights and best practice. And to here my thoughts on retail's future, then that's an excellent idea.