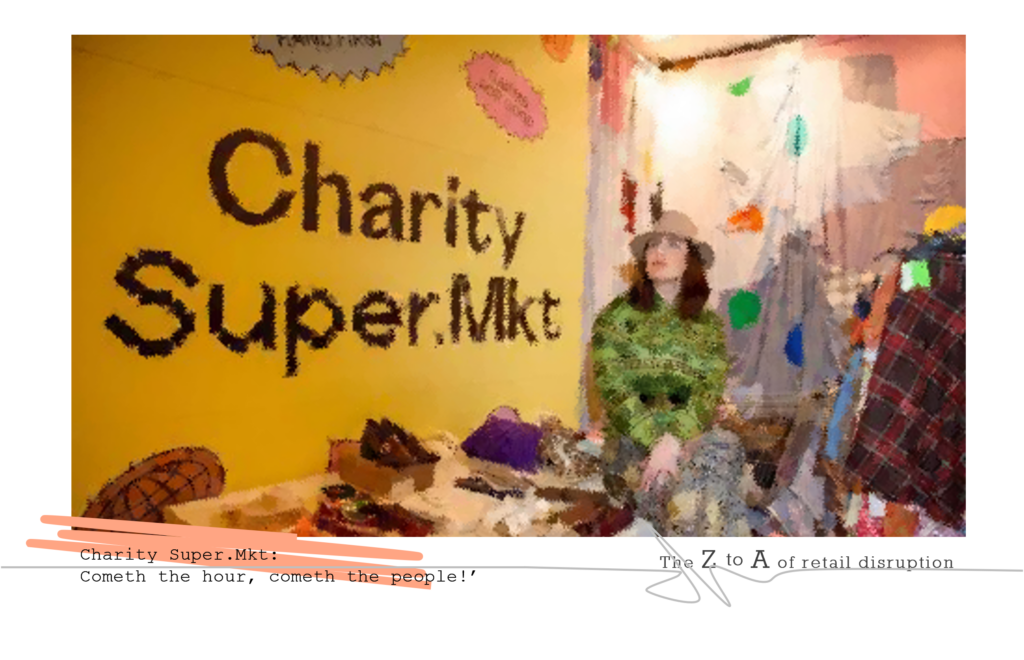 Followers of sustainable fashion cannot have avoided the opening of the first multi-charity department store, at the Brent Cross shopping centre, in North London.
Ten charities are represented in the store, including Age UK, Cancer Research, Shelter and Traid. It has opened to much fanfare in a former TopShop unit and is not just remarkable in terms of its size and collaborations, but in the fact that Brent Cross is not your average charity, or trendy re-sell location. This is middle-England shopping centre land. And the crowds are buzzing, the tills are ringing.
The shop broke its sales target within a few days of opening and has been "inundated" with enquiries from landlords and others interested in hosting the next Charity Super.Mkt stores.
Sustainable fashion solutions are being driven by extraordinary people from the worlds of re-selling, re-cycling, repair, and rental. The people behind Charity Super.Mkt are a certain Wayne Hemingway, partnering with Maria Chenoweth, chief executive of sustainable clothing charity Traid.
I first encountered Wayne with his Red or Dead brand in the 1990s. Ahead of his time, the Neal Street shop was not just a magnet for trendy fashion but was also fitted entirely from recycled materials. Further back, his first foray into retail was selling second-hand clothing in Camden market.
In many ways his pedigree makes him perfect for this critical hour which is now upon us, where a shift to re-sell is an essential step to get the fashion industry and fashion customers, on board with saving the planet and its resources.
Just listen to what he had to say in a recent Retail Week interview….
"People are ready for this now. There's the small thing of climate change, that is pretty important. Then there's the small thing of the cost-of-living crisis."
"We've got Gen Z, Gen Alpha, and they quite like spending money when the money goes back into the things that they care about. This is a generation that can't afford to buy, on the whole, relies on the bank of mum and dad, and has been shafted by previous generations and the economy."
"Number one is thrift, number two they know that when they spend their money in these shops it's not going to some offshore tax haven, it's going to end-of-life care, it's going to homelessness."
"We wanted Charity Super. Mkt to not just be where all the kids go shopping. We've done it where the average shopper goes – this is not just full of students and teenagers, this is everybody. What we have brought is worth quite a lot of money. We bring footfall and that brings turnover. We bring publicity and on top of that we're bringing purpose."
Is it the time for sustainability and ethics to go mainstream?
'Cometh the hour?'
It is time for us all to step-up. There are approximately 3,800 second-hand shops in the UK and revenue from charity shops alone stands at about £746m. It is time for everybody to put their money where their mouth is.


In the meantime…
Intelligent 'Retail Intelligence' is featured in the new book – 'Meaning in the Retail Madness – How to be an Essential Retailer'
If you'd like to read my book for many more retailer insights and best practice. And to here my thoughts on retail's future, then that's an excellent idea.
I hope that the sections on how to flourish in the 'The life and times of the Essential Retailer' how to evolve 'Agile Organisations' and excel in 'Astute Strategies' may be a source of inspiration and guidance. You will also find 70 action plans and 90 retail best practice insights that may help you to assess your current weaknesses and opportunities.
Enjoy your read.