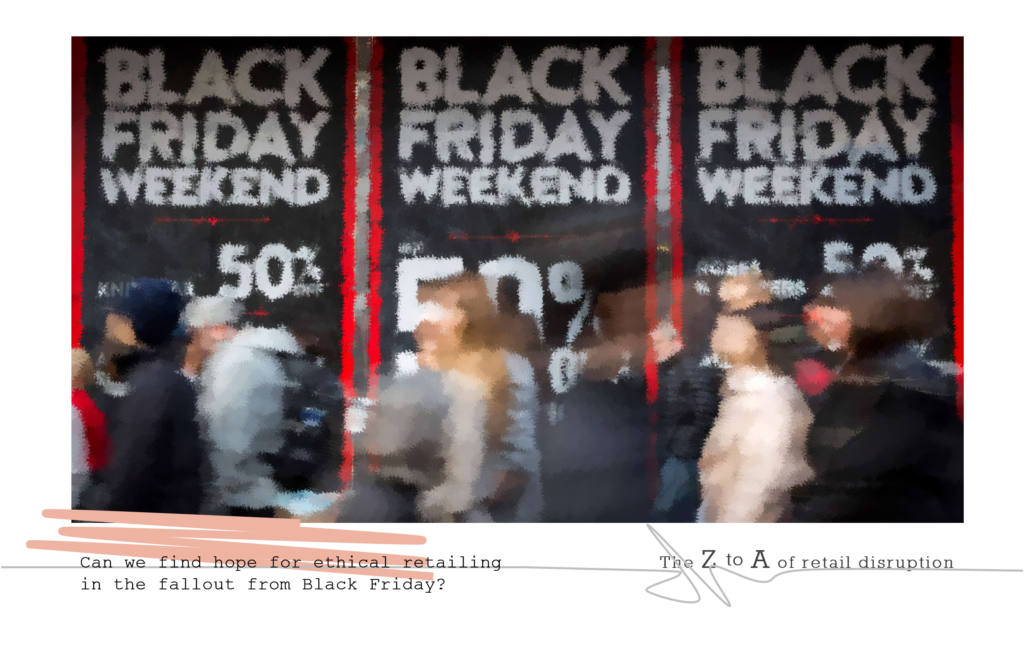 Black Friday is generally recognised as the epitome of mass-market retailing, a customer celebration of huge price reductions, and the shifting of eye-watering volumes of merchandise.
For retailers a big blow to margins, but the salvation before Christmas in terms of units sold, and this year an opportunity to offload unprecedented unsold, unwanted overstock to clear the shelves for the next year's refill.
Dreaded by advocates of sustainable & circular retail, everything about Black Friday perpetuates the model of over-supply, overproduction, desperate price reductions, environmental damage, carbon emissions, and often only made feasible by unethical factory practices and shocking worker conditions.
Surely, in the 2022 'Cost of Living' crisis customers would flock online to fill their Christmas stockings with a mass of unprecedented low prices.
Research by Retail Week, into online retail traffic, suggests not. Far fewer consumers engaged with the event online and 188 of the UK's biggest retailers saw an average 12.07% decrease in site visitors.
Digging further into the dirt of online fast fashion, the figures show some staggering declines for some of the less reputable businesses, including Boohoo who resorted to pricing garments for as little as 2p. Boohoo traffic down by -37.2%, accompanied by ASOS down -18%, H&M -28%, New Look -26%, and even Zara down by -29%.
The exception to the trend is the particularly unsavoury Shein with traffic up 26%. However in any segment there will be winners, and with its huge financial and industrial infrastructure it is best suited to excel in the ultra-fast fashion sector.
But, even in the depths of recession, it does seem that low prices at the cost of everything else, are not enough to guarantee either traffic or sales, or in fact survival. And whilst Shein increases share, it is to be hoped that this is at the expense of similar but less efficient competitors, fighting for a share of a smaller overall ultra-fast fashion market.
Of course, the figures reflect the wider falls in traffic and sales across retail in general. However, the patterns do suggest that brands with added-value and genuine promotions, are being appreciated more by many customers.
Sustainability, or the lack of it, must not just be considered in terms of the environment, but also in terms of the longevity of retail businesses themselves.
This Black Friday could already be showing us that many customers are learning to shop more discerningly, looking for deals on high value purchases, rather than low value feasting.
Is a drop in retail traffic and sales ever worth celebrating?
You don't need me to tell you that retail is in a tough place, with many people's livelihoods depending on its success. So whilst on the one hand we should never celebrate a downward trend in customer traffic and sales, the fallout from Black Friday may give us hope for a more ethical and sustainable retail future, populated by more ethical businesses who offer better value to their customers, and improved job security, working conditions and lifestyles to all of their employees.
Ethics and sustainability for everyone. Even Shein!


In the meantime…
Fast Fashion and sustainable supply-chains are featured in the new book – 'Meaning in the Retail Madness – How to be an Essential Retailer'
If you'd like to read my book for many more retailer insights and best practice. And to here my thoughts on retail's future, then that's an excellent idea.
I hope that the sections on how to flourish in the 'The life and times of the Essential Retailer' how to evolve 'Agile Organisations' and excel in 'Astute Strategies' may be a source of inspiration and guidance. You will also find 70 action plans and 90 retail best practice insights that may help you to assess your current weaknesses and opportunities.
Enjoy your read.