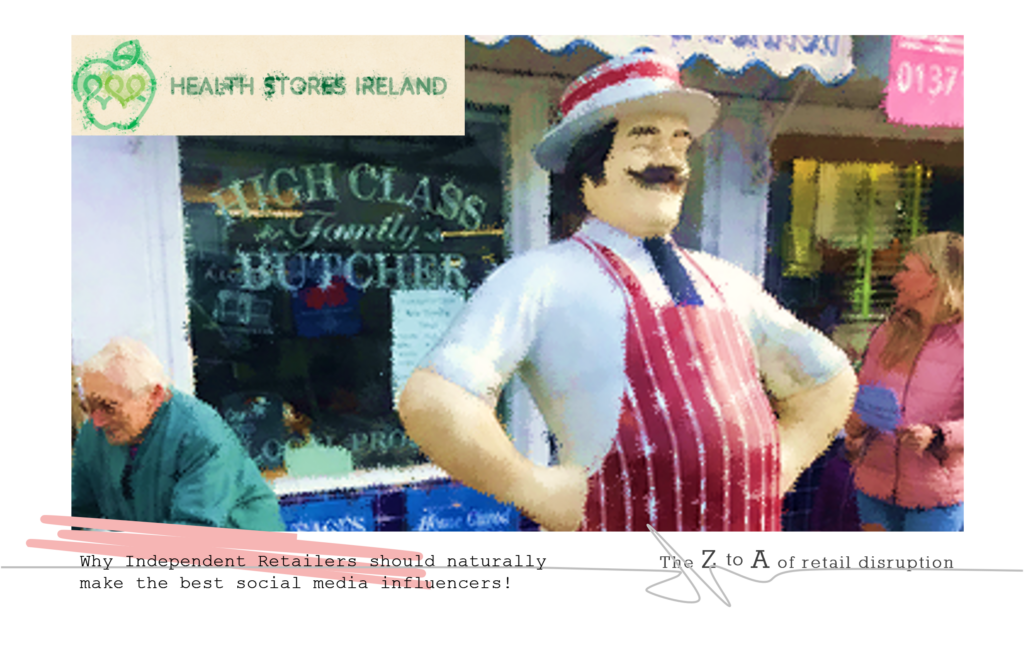 Have you ever wondered why shopping on a good local high street takes so long?
Well, there may be negatives such as finding somewhere to park, particularly if its popular, but once in situ it is largely down to becoming immersed in the whole shopping experience. You discover new and unusual products that require further inspection, you bump into friends in the street and pass some time, and maybe you indulge in a hot coffee.
But undoubtedly you spend a lot of time talking to the shopkeepers and colleagues. A lot of excellent and well spent time, because independent retailers love to talk, they love to sell, because invariably they love meeting people. If they don't there in the wrong job.
My personal favourites are the local butchers who make you feel like every visit is the luckiest day of your life. Always a coincidence that I stumble of a piece of quality meat that even they haven't come across for years. The story of its origins builds, the potential to create culinary magic grows, until the inevitable sale occurs.
Time wasted? Money wasted? Absolutely not, because the engagement, the interaction, the jokes, and laughter are worth their weight in gold. I pay for meat, and I pay for experience, and I leave with a smile on my face.
It is therefore somewhat of a mystery that local retailers shy away from social media. Yet they are some of the most natural storytellers that you could ever meet. It is a shame for the wider digital world, but it is a tragedy for the retailers themselves.
Retail is not a battle of channels, physical shops against digital. It is between one retailer and the next, and social media, blogging, posting are an essential part of gaining and keeping customers, as much as a physical conversation in a shop.
The solution lies in helping such people with essential technology support, navigating them through social platform processes, nurturing their skills in writing, and lavishing praise on them to build up their fragile online confidence.
Independent retailers do not need to aspire to literary greatness, they just need to be themselves…warts, misspellings, bad punctuation, dialect, personal idiosyncrasies, and all.
The more independent, the more individual, the better. Because that is what creates personality, and people are drawn to personalities. In this often mind-numbing generic retail world where distant copywriters charm us with their words, under the illusion that they can create lasting and meaningful relationships, customers are crying out for genuine retail personalities.
Retail personalities who bring their shops and products alive, and who can now bring a smile to their customers faces, as they enjoy a hot coffee and a blog post, in the comfort of their own homes.
Let's encourage our unique and authentic local retailers, to be the best of online influencers. That would be something to write home about.
It is my great pleasure to be the guest of Health Stores Ireland, at their "Putting Our Best Foot Forward" Trade & Partner Gathering, in Shannon on 29th January. Looking forwards to some lively and interesting discussions, as always.


In the meantime…
'Passion Supply Chains' are featured in the new book – 'Meaning in the Retail Madness – How to be an Essential Retailer'
If you'd like to read my book for many more retailer insights and best practice. And to here my thoughts on retail's future, then that's an excellent idea.
I hope that the sections on how to flourish in the 'The life and times of the Essential Retailer' how to evolve 'Agile Organisations' and excel in 'Astute Strategies' may be a source of inspiration and guidance. You will also find 70 action plans and 90 retail best practice insights that may help you to assess your current weaknesses and opportunities.
Enjoy your read.