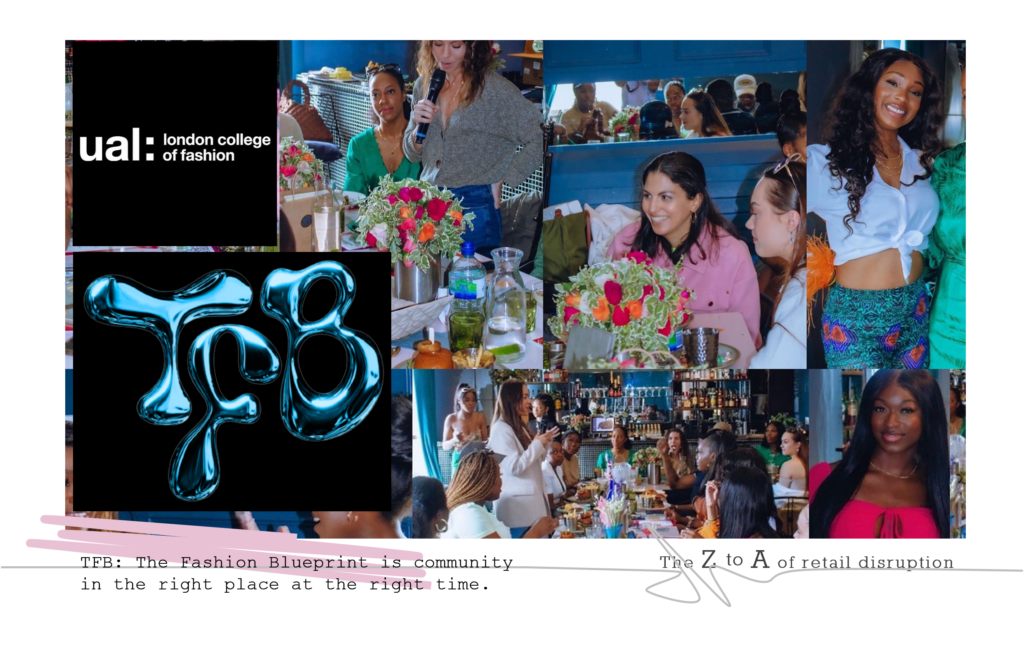 Retailing is so much about communities today, wherever you look. The processes of being a retailer and even being a shopper have become so complex, so confusing, and so utterly saturated that it is barely possible to sell or buy anything as an individual.
More than ever we need the help of others. Particularly as retail brands we need the help of others, and absolutely as young entrepreneurial business leaders, designers and retailers we need the help of others more than ever.
TFB, The Fashion Blueprint is a joint venture set up by two recent graduates from the London College of Fashion, Giovanna Vieira and Misi Ogunlana. It's mission is to be a community-first, boutique consultancy bridging the gap between fashion education and business.
This is based on the girl's own experiences as graduates, and built on the strength of their own personal experience in the workplace.
I work to support and build new initiatives and fledgling businesses and anyone who works with new brands and entrepreneurs knows how difficult it is to get your foot on the ladder to success. It has never been as easy to become a retailer as it is now, but never been so difficult to be a successful one.
Still many of the ways to product and to market are controlled by large and established businesses. You need deep pockets to go physical and deep pockets to be visible and remain visible in the digital world. And when investment is still almost 90% directed into established businesses, by established investor stereotypes, the opportunities to grow commercially are not easy.
On top of this it takes a lot of time and effort, trial and error to convert good ideas, and even a wealth of talent into a commercial strategy and viable business. This is where a benevolent community is needed. To help to build viable businesses, whilst giving them the essential luxury of time through funding and practical support.
TFB is in an excellent space. The girls have built an important community of entrepreneurs, designers and support specialists that can all work together to support and grow each other. They are also building a portfolio of independent brands, a community in itself. A community which helps competitors because this community recognises that a healthy and high profile mass of young brands is ultimately better for everyone to succedd, not as isolated individuals bucking the trend.
Admirably, it is also a community which goes about the business of retail in the right way. These businesses are naturally built on ethical practices and sustainable values. They support fairness, they support diversity and inclusion because the next great success stories could and should come from any background and origin.
And so from this different market perspective it is very interesting to have TFB as part of the LCF collaborative challenge. The students in this case will be working on a community, with a portfolio of brands, but as a single proposition. a single vibrant marketplace for both the digital world.
This is a scenario that is only going to become more common as the big players close ranks and the new communities band together to be competitive. And that is the challenge. To communicate a single cohesive and attractive proposition whilst promoting and celebrating the individual brands that make up the whole.
---

Introducing
R E T A I L M E A N I N G
Professional e-learning courses designed to provide real-time expertise across a range of retail specialisations, strategy, management and operations.
Delivering the knowledge and insights required to survive and succeed in today's dynamic & disruptive retail world.
Educating & Inspiring a new age of retail leaders & entrepreneurs.
Course modules:
How to make yourself essential to customers…
How to build your brand proposition & loyalty…
How to plan your road to retail success…
How to become a great retailer…
How to create customer communities…
How to sell more to your customer community…
How to achieve the next competitive advantage…

R E T A I L M E A N I N G eLearning will be launching very soon, in the Autumn of 2023.
Please contact me to show your interest, or ask any questions…