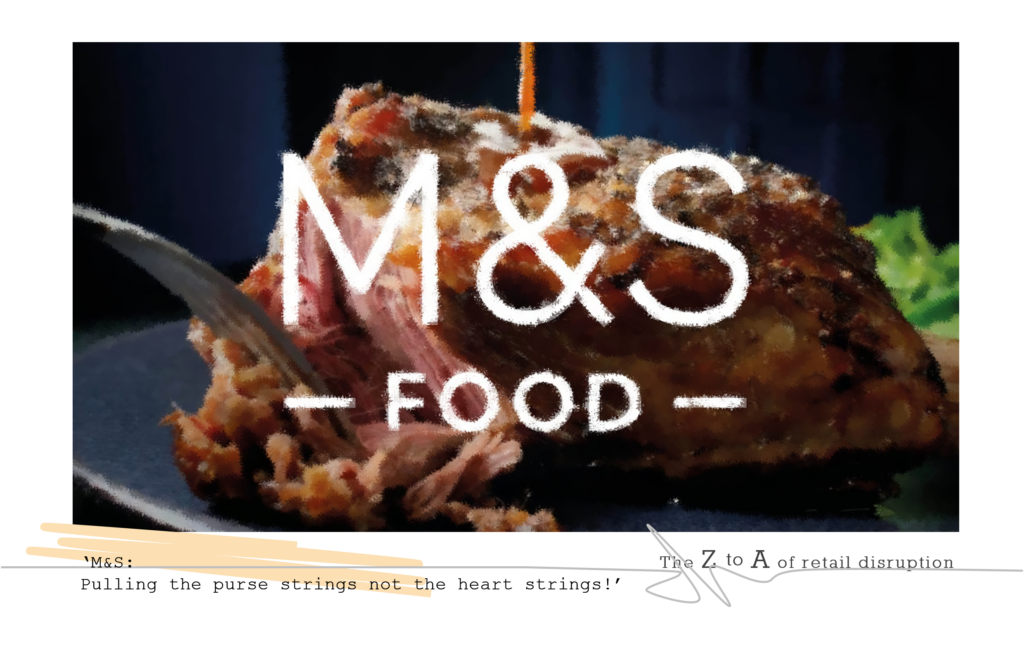 'Pulling the purse strings not the heart strings!' M&S shop strategy is on the money
It is always sad to hear about store closures, but the plans for the M&S estate restructuring are based on ensuring its future as a vibrant retail leader, not as a desperate attempt to regain profitability.
You would have to say that M&S's latest strategy announcement is absolutely on the money. The store churn programme increasing from 5 years to 3 years will ensure that physical shops will keep looking better more often, and will re-locate in a dynamic way responding to customer footfall.
Newly refurbished vibrant shops full of customers must be the goal of every physical retailer.
Really, the big message behind the announcement is the shift in balance between physical food and non-food space. The fact is the market for physical food buying is stabilising after lockdown and physical food shops have a relatively bright future.
M&S allocating more space to food and opening up more food shops allows the brand to offer a broader assortment. Alongside their continued roll-out of more first price essential items this can transform them into a destination for food shopping, rather than a place for food extravagance. Allied also to delivery partner Ocado, and you are looking at a food powerhouse, primed and ready for an exciting phase of development.
And behind everything is the mind-set change from a traditional supply-chain business to a forward thinking, digital-first enterprise. This is adding informed strategic direction, and the ability to implement with speed & precision, cross-functionally and without channel barriers.
M&S has also recently re-established a specialist food innovation hub, whose goal is to create industry-leading products once more. The hub has a transversal team comprising packaging, nutrition, product innovation and business development so that initiatives can be developed and delivered in an integrated way and be quick to market by avoiding traditional silo frictions.
The innovation hub also tracks emerging trends and insights across all categories including fashion and collaborates with external partners to add disruption to the production processes, the way the products are manufactured, the supply chain and the integration of technology and sustainability to the proposition. Recent partnerships with HireStreet and Little Loop illustrate that this is no theoretical exercise.
The fact is that fashion is migrating online. This is being driven by customers and the market.
The new design initiatives, brand collaborations, rental partnerships in M&S fashion are developing the business into a stronger and leaner proposition, and just as we've seen from Next, the balance of sales will shift to digital from physical.
And if M&S can manage returns in a responsible and clever way then they too can grow into a major source of physical shop footfall. Remember M&S was the absolute market leader for decades in its returns policy. An investment in trust that is adding considerable value in this new digital age.
Less shops, but much better shops, as part of an improved proposition and omni-channel model.
It is not a case of throwing away history, but the way forwards for a retail institution now writing new and ever more compelling stories.
In the meantime…
Becoming a Digital-first retailer is featured in the new book – 'Meaning in the Retail Madness – How to be an Essential Retailer'
If you'd like to read my book for many more retailer insights and best practice. And to here my thoughts on retail's future, then that's an excellent idea.
I hope that the sections on how to flourish in the 'The life and times of the Essential Retailer' how to evolve 'Agile Organisations' and excel in 'Astute Strategies' may be a source of inspiration and guidance. You will also find 70 action plans and 90 retail best practice insights that may help you to assess your current weaknesses and opportunities.
Enjoy your read.