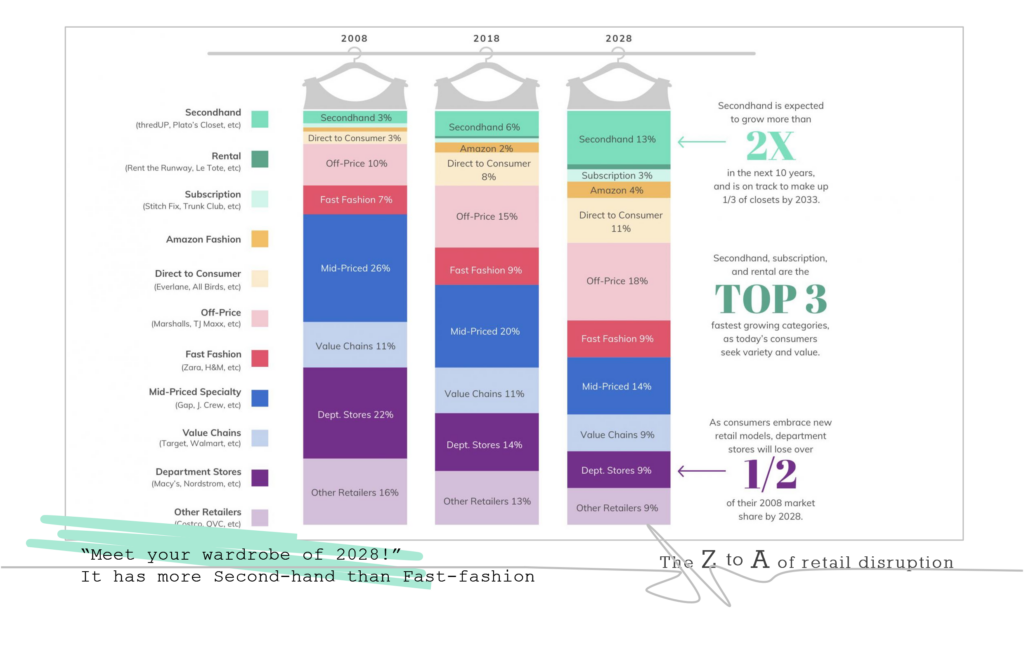 "Meet your wardrobe of 2028!" – It has more Second-hand than Fast-fashion
I love this chart! It was produced using Globaldata research and is now 5 years old. It predicts what types of retailer our fashion wardrobe will be bought from in 5 years-time, in 2028. What an appropriate time to revisit it, mid-way through the prediction timeframe, particularly because what it envisaged for clothing is largely unfolding before our eyes.
The headline grabber is that we will own more re-sell garments than we will fast-fashion. And if we include other second-hand models such as rental then this is considerably more. A rise in wardrobe space over 10 years of over 13% of these sustainable essentials.
However, this rise should not hide the fact that fast fashion is not shrinking. Largely static around 9%, the attraction remains strong, and the sector is here to stay.
One attraction of fast fashion is low-price and other off price & low-price retailers are growing significantly as well. The likes of TX Maxx are set to grow by 8%.
Around 50% of our wardrobe could well belong to these often-polar opposites of low-price and sustainability, but it is re-sell that is holding the trump card, clearly ticking every box for both the cost-of-living stretched and the sustainability focused.
So, who populates our other 50% and who is losing out? Traditional clothing specialists such as GAP and department stores & multi-brands are set to still own 25% of our space, however this has shrunk from around 50% in 2018.
A rapidly growing part of our wardrobe is being given up to Direct-to-customer brands (DTC.) Everyone from mega sports brands to a myriad of more niche and ethical businesses are set to take up almost 15% of our space. Ecommerce has unleashed the visibility of such brands, whose model is now focused on omnicannel.
So, what's the message behind the trends and predictions? If we are striving to make our lives and our wardrobes more sustainable, our industry more ethical, or simply to make ends meet then where does this leave us?
Ultimately, we arrive at a couple of common truths that have always been at the heart of retail.
Firstly, that you must have meaning in the market. Anonymous operational brands are being overlooked, easily forgotten by the customer. The 'warning light' for all brands is that the fall from being essential to meaningless can be very rapid indeed today.
Traditional retail markets will continue to be focused on less but larger players in traditional mid-market retail, traditional fast-fashion, and traditional low-price sectors. The likes of Zara, H&M, Uniqlo, Primark & TK Maxx are becoming dominant. The opportunity to impact change in these titans will remain a difficult task, but not without successes. They see the economic sense in embracing sustainability in a more genuine way.
The focus of the sustainability battle is often pitched exclusively against fast fashion. Undoubtedly, their practices are not circular, and often not ethical, but their static wardrobe share should alert us that we must also engage with other more rapidly influential areas of the market.
Brands going direct-to-customer (DTC) is very significant. It predicts a likely outcome where brands will be the new retailers, and the traditional retailer model will continue to fade.
DTC is fascinating because it encompasses diversity and choice. Large brands crave the contact with customers and their data, whilst fledgling brands find a way to market, and a way to engage and grow loyalty. Witness the commercial strategies of Nike & Adidas, and the innovation of Gymshark.
DTC offers a share of our wardrobe to brands with sustainability in their DNA. DTC is also the way to create a diverse and inclusive brand environment which offers amazing personal stories, passionate journeys, environmental standards, ethical trailblazers and a spectrum of both added-value and low-prices alternatives.
DTC exposes brands to their customers. This is the double-edged sword of transparency. Generation Z and the consumers that follow them are already demanding more transparency and accountability and voting with their wardrobe space.
Whilst we should continue to buy second-hand, if we want the antidote to fast-fashion and traditional retailer complacencies, we should also increasingly shift our focus to the DTC interface.
We should consider whose pockets we are paying into, both on a global and local level, and give more of our precious wardrobe space to those brands that we deem worthy of that privilege.
For one thing is for sure. By 2028 the customer will be very much in charge. Dictating their choices, dictating their purchases, and largely dictating the retail landscape where sustainability and price will continue to be their purchase priorities.  


In the meantime…
Intelligent 'Retail Intelligence' is featured in the new book – 'Meaning in the Retail Madness – How to be an Essential Retailer'
If you'd like to read my book for many more retailer insights and best practice. And to here my thoughts on retail's future, then that's an excellent idea.
I hope that the sections on how to flourish in the 'The life and times of the Essential Retailer' how to evolve 'Agile Organisations' and excel in 'Astute Strategies' may be a source of inspiration and guidance. You will also find 70 action plans and 90 retail best practice insights that may help you to assess your current weaknesses and opportunities.
Enjoy your read.