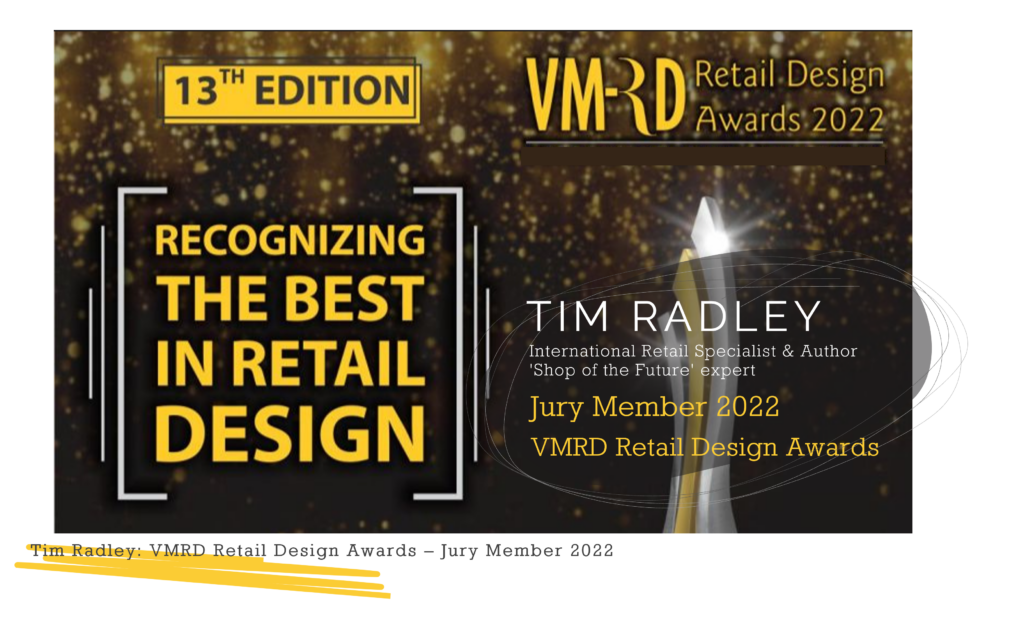 It is that exciting time of year again, to begin judging the entrants for the 2022 VMRD Retail Design Awards.

From experience as an awards presenter, I know that the ceremony itself is a great spectacle and a place of high excitement and emotion. These awards mean a lot in the retail industry in Asia and beyond. It is quite an accolade.
However I have to say that I also really enjoy my first view of the entrants work. That happened this week. The awards cover numerous retail sectors from specialist fashion, sportswear, health & beauty through to food, hospitality, services and department stores. There is a special award for window displays which is always spectacular.
The enjoyment comes from seeing for the first time the variety and creativity of the work. And from its inception 15 years ago the standards across every category, and within every discipline of shop design & VM have risen markedly on each occasion.
I'm pleased to say that the current catch includes some astounding work both in terms of its creativity and operational delivery.
What is really interesting this year is to see the way Eastern & Western influences have been blended so imaginatively and effectively to create some unique and beautiful environments. Clearly the stores make full use of many of the local natural materials, skills both traditional and technological, and absorb the arts and inspirations from this region of the world.
It is refreshing to see that in many cases these influences have been interpreted in new and subtle ways, rather than simple re-workings of familiar stereotypical designs.
So the first round of judging is complete. It has been a very difficult task, as ever, to select those entrants that pass onto the next round, and those that sadly we need to leave behind.
I look forward to selecting the winners, for the awards to be presented in Mumbai later in the year. I would encourage anyone who is able to take a close look at the published designs. You will be inspired. I would also urge all those that can to visit the exhibition, conference and the ceremony itself to sample the unique atmosphere and excitement that it generates.
On with the show!
---
Tim Radley is a retail specialist based near London.
His work with retail companies has spanned a wide variety of strategic and operational projects, including back-end product development to the front-end customer experience, including many shop designs and visual merchandising deliveries. His role has always been to introduce 'new' retail thinking and processes, so improving both the financial performance KPIs, the creative engagement, and the human experiences of retail businesses.
It has been his pleasure to have worked across the world of retail from Europe and Asia to South America and the US.
in 2021 he published his first book – 'Meaning in the Retail Madness: How to be an Essential Retailer.'
Available worldwide across all amazon platforms and popular online booksellers from Waterstones, Blackwell's & Foyles to Barnes & Noble and The Book Depository.