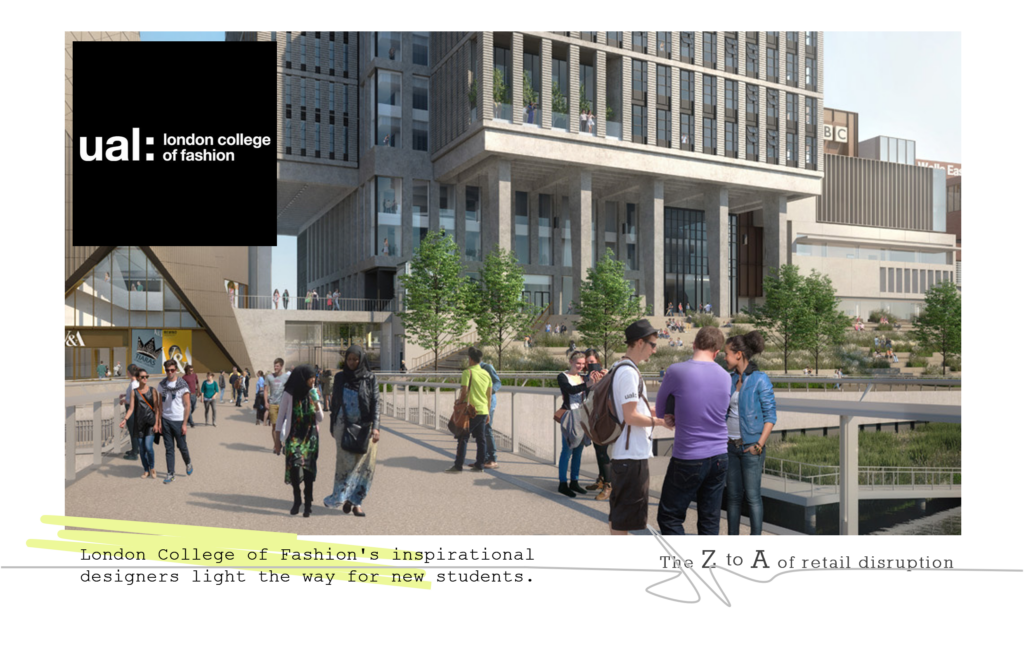 One of the biggest thrills of being involved in the London College of Fashion Collaborative Challenge is meeting the amazing young designers from the LCF alumni.
It re-enforces to me the fact that fashion is not about the process of buying & merchandising, it is about the inspirational people who put their heart and souls into their brands. In a world where customers have an appetite to know about the personalities behind the products i have the real privilege to meet some extraordinary young people.
Their energy, their passion and their unique manifestos are creating fashion that is unique and inspiring, which lights the way for today's students, whilst shining a harsh light on the commercial world of mass produced merchandising.
Over the next few months i will enjoy the experience of getting to know them better. Here is a flavour of what the LCF students and myself can expect. This year taking place in the amazing brand new UAL building in Stratford, forming part of the arts district with the adjacent Sadlers Wells & V&A.
Asya Ter-Hovakimyan is co-founder of fashion brand Omniss. She gave a really inspirational presentation beginning with her life at the LCF, the inspiration she took from meeting such diverse people in such a creative environment, and how she met her Omniss co-founder there. Asya also gave a fascinating account of how they both spent months buying and dissecting the clothes that they loved to see how garments were put together and how they could design and craft the new styles they wanted. The Omnis brand is really mercurial. Described as an 'Aesthetic orientated fashion brand driven by character focused story-telling,' it will be really fascinating to see how the students mould this into a physical retail concept.
Adiam Elias is founder of ADIAMELIAS a sustainable premium womenswear brand. Her perspective comes from her fascination with product design and pattern cutting. She speaks passionately on her belief that clothing should be comfortable and innovative, without faulting on style. She designs garments that are creatively cut and wearable. Adiam explained to the students how she takes her inspiration from the human body, celebrating humanity and bodies of all types. Each piece is individually hand cut and made in London. Not surprisingly then, she has built her proposition around pre-ordered bespoke fashion. It will be very interesting to she how the students consider ways to communicate the benefits of pre-order and translate that to the physical environment.
The work of Harri was known to most students. Abhinov the CEO, told the story of how singer Sam Smith approached the designer to create an outfit for the 2023 Brit awards that would make his body 'as weird as possible.' Harri is known for his inflatable outfits and the images of this particular black suit filled the media channels of the world. Harri draws inspiration for his unique looks from the worlds of sculpture and performance as well as fashion. The brand is now undergoing a commercial process to bring the spectacular within the reach of a wider audience. What an opportunity for the students to work with Harri, and what a challenge to distill this amazing world of imagination into a 3D physical shop.
TFB (The Fashion Blueprint) is the brainchild of two more students who met at the LCF, Giovanna Vieira and Misi Ogunlana. Both of them have since worked in various sides of the fashion industry from design, buying & merchandising, to operations and marketing, and so they set up TFB to be a community-first, boutique
consultancy bridging the gap between fashion, education and business. Their mission is to create an ecosystem of fashion entrepreneurs who can start and maintain their own sustainable brands, with a focus on supporting independent, black-owned brands, and creating a fashion industry that is more inclusive and diverse. These 2 highly driven individuals represent an interesting challenge for the students who will need to condense a number of fashion brands into a single customer proposition and a distinct physical marketplace.
Personally, I cannot wait…on with the show.
The LCF Collaborative Challenge is part of the curriculum of their BA fashion courses. The objective is for teams drawn from complementary disciplines, from fashion management to design and media, to transform one of a number of LCF alumni fashion brands into a physical customer proposition and retail space.
They will work as individuals and as a team on the brand creativity & communication, assortment curation, customer definition, physical shop location strategy, physical and digital shop design, and marketing & publicity. The projects culminate with a pop-up shop design concept bringing all of their work together as a single seamless physical entity.
---

Introducing
R E T A I L M E A N I N G
Professional e-learning courses designed to provide real-time expertise across a range of retail specialisations, strategy, management and operations.
Delivering the knowledge and insights required to survive and succeed in today's dynamic & disruptive retail world.
Educating & Inspiring a new age of retail leaders & entrepreneurs.
Course modules:
How to make yourself essential to customers…
How to build your brand proposition & loyalty…
How to plan your road to retail success…
How to become a great retailer…
How to create customer communities…
How to sell more to your customer community…
How to achieve the next competitive advantage…

R E T A I L M E A N I N G eLearning will be launching very soon, in the Autumn of 2023.
Please contact me to show your interest, or ask any questions…