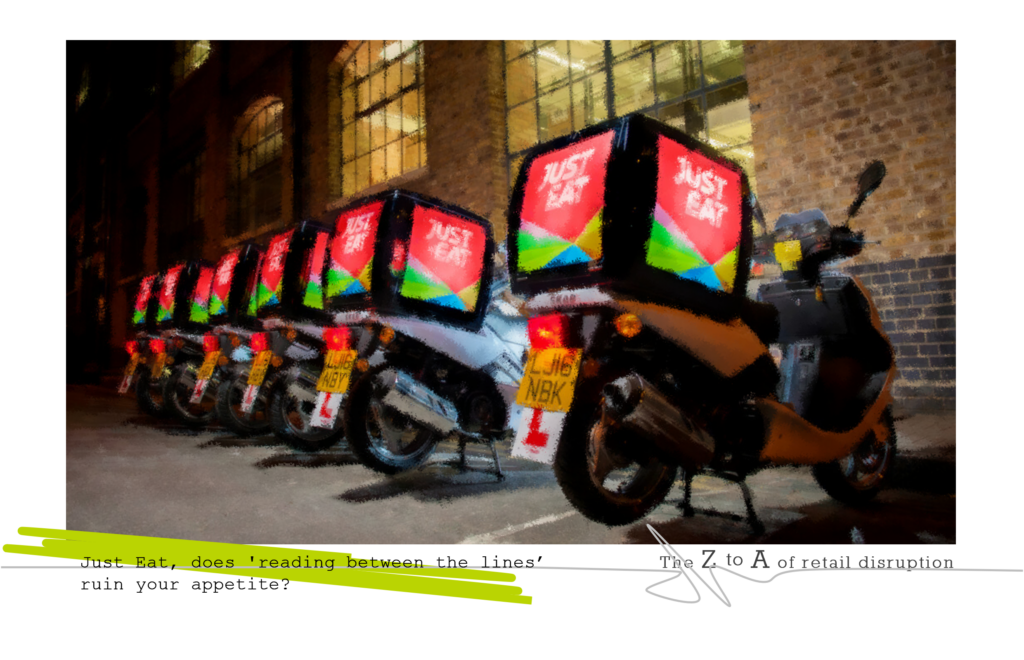 Just Eat, does 'reading between the lines' ruin your appetite?
With brands communicating such a 'plethora' of data and performance statistics, it seems transparency is not only an issue with sustainability, but with performance itself.
Whilst it cannot be argued that Just Eat is narrowing its losses, marginally increasing its revenue, and increasing its sales in its UK & Irish markets, there are some concerning trends when it comes to its most customer facing performance data.
Lockdown, and the subsequent move to ecommerce and all things deliverable, had a remarkable impact on what, and whom, we call a retailer. Under any normal circumstances a business that supplies the delivery logistics that allows thousands of recognised food retailers and restaurants, alongside many more local businesses, to serve their customers, would be classified within the retail services category. A B2B operator. A business that has clients.
However the creation of the Just Eat customer interface, websites and apps, alongside advertising featuring Snoop Doggy Dog, firmly catapults the brand into the realms of B2C. Just Eat is a customer facing brand. Just Eat is a retailer.
It has potentially a huge opportunity. Despite generally not producing any products itself, the fact is that Just Eat is the customer touchpoint at the beginning and end of the process. It gives the brand an unrivalled exposure to the final customer. It facilitates the best possible chance to forge a deep and lasting relationship with the final customer.
It also represents a real and present danger to those brands which use it. For all the assortment developments, the attention to recipes, the excellence of the cooking, it is the Just Eat brand that many customers will experience and remember first hand.
Against this some of the performance data delivered by Just Eat serves as more 'food for thought.'
Although Just Eat grew the number of partners it works with by 16% year-on-year to 680,000, active customer numbers slipped 4% to 94m. In the UK and Ireland, order numbers fell 7% to 132.1m.
It seems that Just Eat is making advances through its connection with potential B2B partners, whilst losing traction with its B2C markets. These two statistics equate to each partner generating decidedly less revenue. It is not a good pattern to build blooming B2B relationships. Nor is it a positive trend for a successful B2C business.
Another extract from the current figures. Group revenues inched up 1% in constant currencies to €2.78bn (£2.32bn). After removing order fulfilment costs, revenues grew 15% in constant currencies to €1.11bn (£930m).
This seems an interesting KPI to communicate. One would imagine that 'order fulfilment costs' are part and parcel of being a delivery partner to retailers and restaurants. Is it not an important part of your raison d'etre? This sounds very much like the speak of a retailer. Is considering Just Eat's success or failure without order fulfilment costs, like measuring any physical retailer's success or failure without considering the cost of rates and rent?
For now, I'll leave that conundrum for others to ponder.
Clearly, interacting with the final customer has a strong momentum now for brands, manufacturers, producers and service businesses. The opportunities for higher margins, controlled brand experiences, and access to customer shopping data are tempting and compelling. But with that transition comes the complication of balancing retail clients and final customers, and the strategic and operational dilemma of focusing objectives, resources and investment, and prioritising the correct KPIs to measure success.
I am reminded of a brand I once worked with. Fundamentally wholesale suppliers they had recently developed and expanded a sizable number of DTC shops. They were successful and all of them made profits. Then in one 'bolt of lightening' moment it was revealed that the stock in the shops was not charged to the retail business. It was essentially given free to the shops, by the wholesales business. Unsurprisingly, as far as i know neither arm exists anymore.
There are simply no short cuts to being a commercially successful retailer.
In the meantime…
The end-to-end facilitator is featured in the new book – 'Meaning in the Retail Madness – How to be an Essential Retailer'
If you'd like to read my book for many more retailer insights and best practice. And to here my thoughts on retail's future, then that's an excellent idea.
I hope that the sections on how to flourish in the 'The life and times of the Essential Retailer' how to evolve 'Agile Organisations' and excel in 'Astute Strategies' may be a source of inspiration and guidance. You will also find 70 action plans and 90 retail best practice insights that may help you to assess your current weaknesses and opportunities.
Enjoy your read.