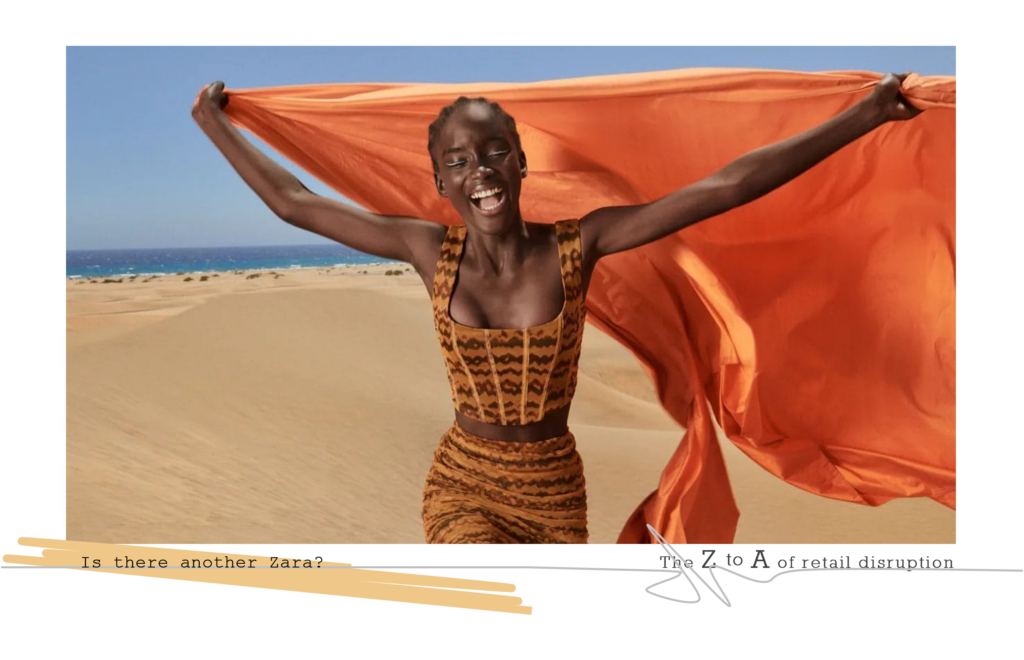 Zara is extraordinarily successful. But will it become a victim of its own success, so long as sustainability remains a victim of Zara.
Zara has become the most amazingly successful fashion retailer ever. It perpetually fills its stores with new and exciting styles, that customers across the world constantly fall in love with.
To achieve this, it has been incredibly clever and innovative. It has led the way in the revolution of its buying processes, the places where it takes its inspiration from, how it creates its assortment structures, plans lead times and implements sourcing strategies.
Zara did invent fast-fashion. And that for many is reason enough to dislike, often vehemently, everything about the business. Never to darken its doors, or its website. It is fully understandable.
However, for a fast-fashion player, it has evolved practices that place it well ahead of its competitors in the sustainability stakes. And ironically, its commercial efficiency is also in-line with sustainable values. Zara's obsession with knowing what the customer wants, through meticulous studying and analysis, ensures that the product made is much more likely to be sold. Its unique speed from design to production, and production to market, ensures that customer trends are still relevant and vibrant in the products. The more local production supply chains, with less miles travelled, are more efficient and less polluting than many brands with substantially longer chains. And Zara's RFID product tagging ensures that more products meet their final owners, by being in the right place at the right time.
These efficiency factors contribute to Zara selling an extremely high proportion of the products its produces. Less waste and carbon emissions in the production process, less markdowns, unwanted units, and product disposal and destruction.
However, from a sustainable perspective, Zara is undoubtedly a victim of its own extraordinary success. And as a result, sustainability is a victim of Zara.
The reason is simple. It is the sheer volume of products it sells. However local or efficient its factories and processes, that volume of products cannot help but generate pollution, and absorb the planet's resources. And that volume of products also finds its way into the wardrobes of its customers repeatedly, and ultimately most of it, into landfill.
Volume is the enemy. But by the rules of the fast-fashion model, volume is essential to commercial success.
Well, perhaps not, and there are encouraging signs. Encouraging models that will still allow Zara to make its profit volumes, but without its production volumes. Volumes of garments, volumes of raw materials, and volumes of pollution.
For example, Zara has entered into a rental partnership with Hiresreet. Here it can rent out to a number of customers per season some of its most fashionable and favourite lines. The partnership is showing that by producing less, and renting more, Zara can make more revenue, whilst offsetting waste and pollution.
For those products less fashionable but more durable, the second-hand reselling market offers possibilities. Many brands are unofficially sold across Vinted and Depop, Zara included. Hopefully, it is only a short matter of time before Zara begins to embrace and benefit itself from this avenue of sustainability. Not in a restrictive way, denying customers from re-selling, but by adding its own platform to the re-selling party, in a collaborative and imaginative way. For brands like Adidas an entrepreneurial second-hand market has only added to the brand's overall value & desirability. The same halo could easily adorn the Zara mantle.
On the materials front Zara continues to work with innovators such as Renewcell to ensure that more of its ranges are constructed using products that are organic, recycled and recyclable. The Renewcell collaboration creates raw material circularity by transforming pre and post consumer textile waste, such as used jeans, into a pulp for new clothing, called Circulose. It is collaborating with others.
Now, of course, Zara is currently dabbling with sustainability, but it is dabbling increasingly and extensively, across all these areas. And as the market grows across renting and re-selling and everything in between, then the dabbling could well develop into a fully-fledged commercial model.
And if anyone can do this, to scale, it is Zara. They have the organisation, efficiencies, and commercial acumen to generate a sustainably integrated assortment structure and supply chain model that can integrate new recyclable products, second-hand recycled products, and diverse revenues from rental and on-demand. They could make it work. They could make it profitable.
Is this the Zara we would all like to see? To still be able to enjoy the innovation and excitement of fashion, but without worrying about its environmental impact.
I am optimistic. Hopefully it is just a matter of time…'Fast-Fashion Time!'

In the meantime…
Renting, recycling and the circular supply chain is featured in the new book – 'Meaning in the Retail Madness – How to be an Essential Retailer'
If you'd like to read my book for many more retailer insights and best practice. And to here my thoughts on retail's future, then that's an excellent idea.
I hope that the sections on how to flourish in the 'The life and times of the Essential Retailer' how to evolve 'Agile Organisations' and excel in 'Astute Strategies' may be a source of inspiration and guidance. You will also find 70 action plans and 90 retail best practice insights that may help you to assess your current weaknesses and opportunities.
Enjoy your read.