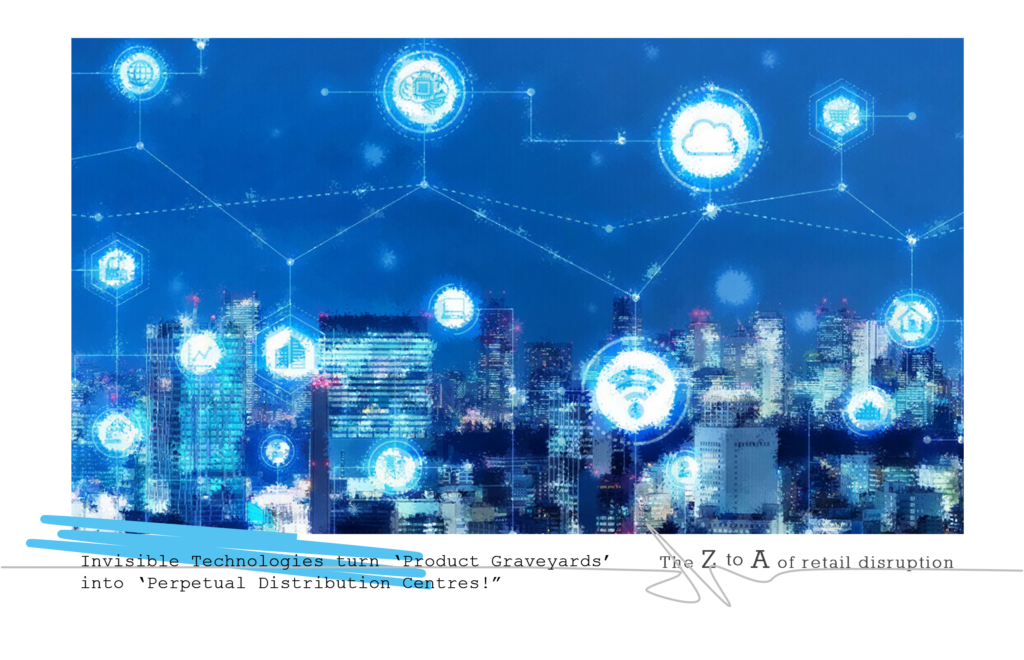 In the annual debate about the best use of retail technology budgets, heads are often turned by the 'sexier', and highly visible software solutions that enhance the visual interface and the customer experience.
The rise of pureplay, the need for graphic stimulation, digital interaction, and brand immersion, all catapulted augmented and virtual reality to the top of IT director shopping lists. They are of course equally amazing and important.
But as the omnichannel balance returns to the new norm where physical shops are regaining their grip on customer purchases and profits, retailers are also regaining their retail senses, and re-evaluating the most important connection of all. The physical coming together of the customer and the product.
From virtual reality to absolute reality.
Invisible technologies already straddled the buying & merchandising, and product supply chains, and were already worth their weight in gold before the rise of ecommerce, linking and monitoring product design sketches and factory samples, coordinating and tracking the path of products across the globe.
However, the absolute value of such technologies has now been multiplied many fold, in this ever more complex retail world, as solutions such as RFID (Radio-frequency identification) product tracking ensure that retailers never lose sight of any individual product.
A complex retail world where the product supply chain has evolved into the customer supply and re-supply chain. Where the product lifecycle has been extended into the customer lifecycle. Where brands have new responsibilities and opportunities to manage and monetarise their products, long after the initial customer purchase, through the additional stages of re-sell, repair, rental, up-cycling and ultimately re-cycling.
A complex retail world where the cost of producing every product has multiplied, where the complexity of controlling the raw material sourcing, product creation and production is attracting increased new scrutiny, and where over-production and over-supply are frowned upon and soon to be regulated against.
A complex retail world where new value must be attributed to every single product option and where monetary returns need to be realised from every product unit through achieving initial sale full-margins, re-sell secondary margins, and income from the recycling of raw materials.
A complex world where retail brands need to maximise sales and profits from smaller inventories. Selling more, and more often, of less.
To do this the right product needs to be connected physically with the right customer, in the right place, at the right time, consistently and repeatedly. Market flooding must be replaced with product placement.
The only way to achieve such efficiency and precision is to know everything about your product, to physically tag your product with its history and then its journey from supplier, through retailer channels, to the customer and beyond. To track that story instantly and continuously. To understand, to react, and to realise customer connections.
In COVID lockdowns, RFID turned closed shops from 'product graveyards' into micro-distribution centres. Today the same technology promises to convert every physical product resting place, factory, ship, warehouse, lorry, DC, stockroom, showroom, sales floor, delivery van, customer home, wardrobe and recycling bin into micro re-allocation and distribution centres.
Maximising every movement of the product, for the customer's enjoyment, for the retailer's profit, for the efficiency of production, the minimising of carbon footprints, the maximising of every product life, until they return to the raw materials from which they were created.
Never lose track of your physical product. Never lose sight of its ultimate potential to generate sales income, and to achieve your sustainability goals.
Never take your eye off Invisible Technologies!


In the meantime…
Retail technology strategies and applications are featured in the new book – 'Meaning in the Retail Madness – How to be an Essential Retailer'
If you'd like to read my book for many more retailer insights and best practice. And to here my thoughts on retail's future, then that's an excellent idea.
I hope that the sections on how to flourish in the 'The life and times of the Essential Retailer' how to evolve 'Agile Organisations' and excel in 'Astute Strategies' may be a source of inspiration and guidance. You will also find 70 action plans and 90 retail best practice insights that may help you to assess your current weaknesses and opportunities.
Enjoy your read.