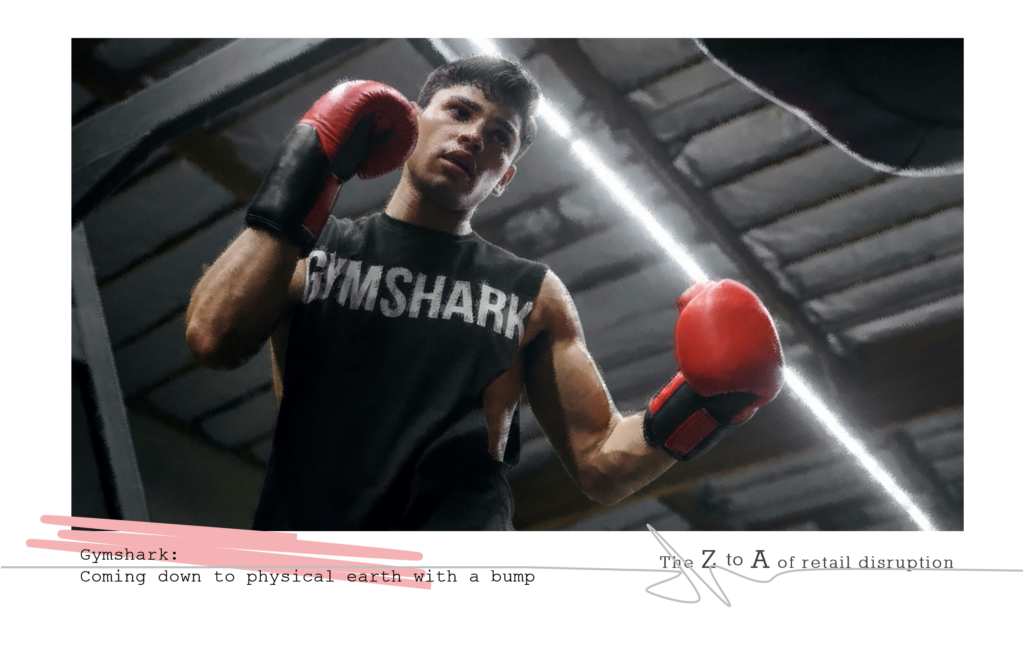 I am a huge fan and advocate of Gymshark.
The story behind the sportswear brand's origins and its founder, Ben Francis, is inspiring. Everything I have ever read about his values and philosophy on leadership makes me believe that he is a compassionate, and motivational boss to work for. Above all Gymshark make excellent gym & sportswear and is a refreshing change from other available brands.
So, I am a little sad and underwhelmed after visiting their first physical store on Regent Street in London.
This is only my personal view of course, but for me the shop lacks the real wow! experience factor that a new flagship needs. Sadly, it also fails to communicate the uniqueness of the brand, its values, and its origins. So, whilst the environment is adequate, it delivers what any international mid-market brand might. Sadly, it is not special, whilst the Gymshark brand itself is incredibly special.
It is important to point out that physical retail is difficult. Never underestimate the complexities and the obstacles to opening and running physical retail space. It is simply not easy to create shops that are both commercial and experiential. All brands continuously re-invent and evolve to reach these goals.
It also seems that Gymshark has been caught between too many stools in what it wants the shop to be and to do. In the end it dilutes everything, product space, an omni-channel hub, coffee bars and its several gyms.
Is the strategy to drive actual physical sales, to create a physical London community, to show off the brand to new customers, to deliver such an extraordinary brand space that visitors are compelled to buy online?
No doubt it will partly achieve all these things. But it will not do any of them as well as it could.
Enough of the critique. Knowing the Gymshark business, its leaderships and its ambitions, I have no doubt that this first shop is only a first physical learning on an ambitious growth curve.
Gymshark has always typified the very best of what pureplay has brought to the retail business table. To be customer focused & data centric, to test & measure, to conclude and evolve, and above all, to be brave and smart.
My own advice for the next Gymshark incarnation is to be brave. To be brave with its architecture, its lighting, its pace, volume, energy, and its atmosphere. To be brave with its brand communication, its personality, attitude, opinion, and philosophies. To be brave with its product and its heroes designs through extraordinary visual merchandising, and physical interaction. And to be brave with its community, generating and harnessing the enthusiasm & advocacy of an involved and loyal customer base.
I have no doubt that Gymshark will be brave because it is smart.
I have no doubt it will demonstrate the same determination, drive, passion and yes, bravery, that helped it grow from its inception, in a garage with a sewing machine and a screen printer, into a gym wear revolutionary.


In the meantime…
Gymshark are featured in the new book – 'Meaning in the Retail Madness – How to be an Essential Retailer'
If you'd like to read my book for many more retailer insights and best practice. And to here my thoughts on retail's future, then that's an excellent idea.
I hope that the sections on how to flourish in the 'The life and times of the Essential Retailer' how to evolve 'Agile Organisations' and excel in 'Astute Strategies' may be a source of inspiration and guidance. You will also find 70 action plans and 90 retail best practice insights that may help you to assess your current weaknesses and opportunities.
Enjoy your read.