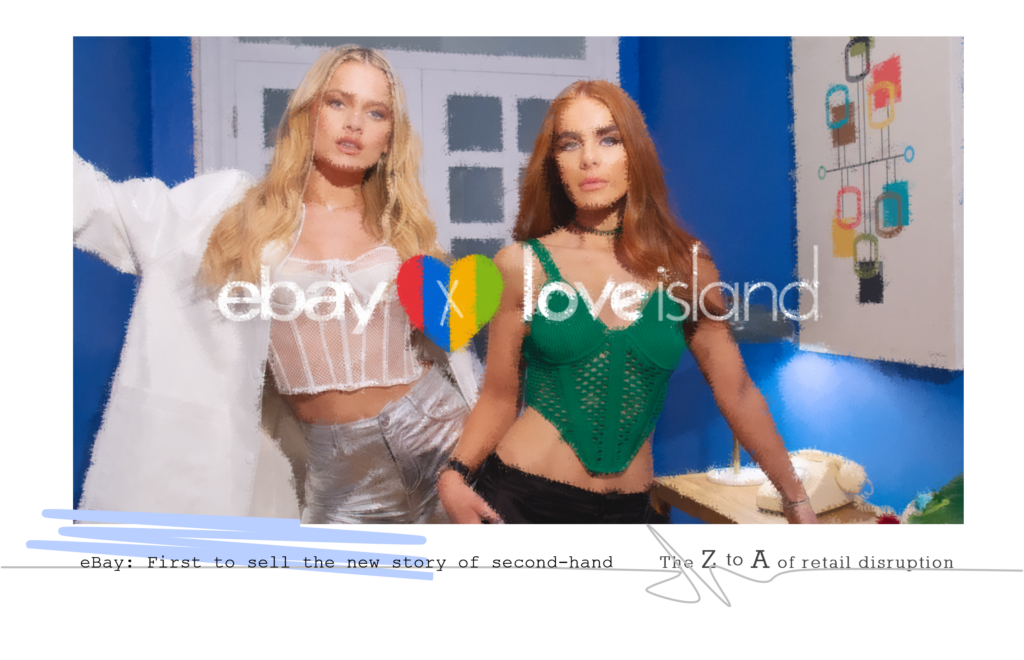 Once again, I find myself agreeing with Murray Lambell, UK general manager at eBay. Not only with his words and insights, but with the actions that eBay are taking towards operating and flourishing in a better and more sustainable retail future.
Last year eBay promoted only re-sell products for Black Friday, opened a Luxury Exchange to verify and facilitate the sale of second-hand designer accessories, and they also sponsored Love Island providing their contestants with preloved items to wear on the show. An initiative being repeated this year.
eBay, of course reflects the wider trend in the UK for buying second-hand. A trend being driven by the hopefully short-term cost-of-living crisis, and the undeniable long-term transfer of consumer spending into sustainable sales channels.
A survey conducted for eBay in December by Opinium showed that half of Britons plan to buy pre-owned items this year.
But where I think eBay has nailed the real issue, is in how retail businesses and consumer brands can benefit from this shift in spending sentiment.
For me, 2023 should bring one of the most significant retail strategy breakthroughs we have witnessed for decades.
A new era. An era where many retail brands will finally relinquish their stubborn and forlorn obsession with sourcing and global supply chains as the only way to increase profits. They will turn to fresh and innovative approaches. To the many potential and exciting touchpoints where retailers can now engage and sell to the customer.
In my book, 'Meaning in the Retail Madness,' I talk about the shift from 'economies of scale,' to 'scale of economies.' How retail and consumer brands should maximise the sales potential of their customer communities both physical and digital, by taking every opportunity to connect, engage, inspire and sell to their customer base.
To explore every product supply avenue from new to recycled, from re-sell to rental, from repair to re-invention. To optimise every way to build and engage genuine customer communities from events and activities, to sponsorship and local ownership, from wellbeing and sustainability, to fun and entertainment.
This is a return to selling. Where margin is gained through the experiential sales process, not through the manipulative buying process.
I sincerely hope that this sea-change has arrived.
That the penny has dropped. And that revenue and reward flows from innovation, ethical investment, and human interaction.


In the meantime…
Intelligent 'Retail Intelligence' is featured in the new book – 'Meaning in the Retail Madness – How to be an Essential Retailer'
If you'd like to read my book for many more retailer insights and best practice. And to here my thoughts on retail's future, then that's an excellent idea.
I hope that the sections on how to flourish in the 'The life and times of the Essential Retailer' how to evolve 'Agile Organisations' and excel in 'Astute Strategies' may be a source of inspiration and guidance. You will also find 70 action plans and 90 retail best practice insights that may help you to assess your current weaknesses and opportunities.
Enjoy your read.