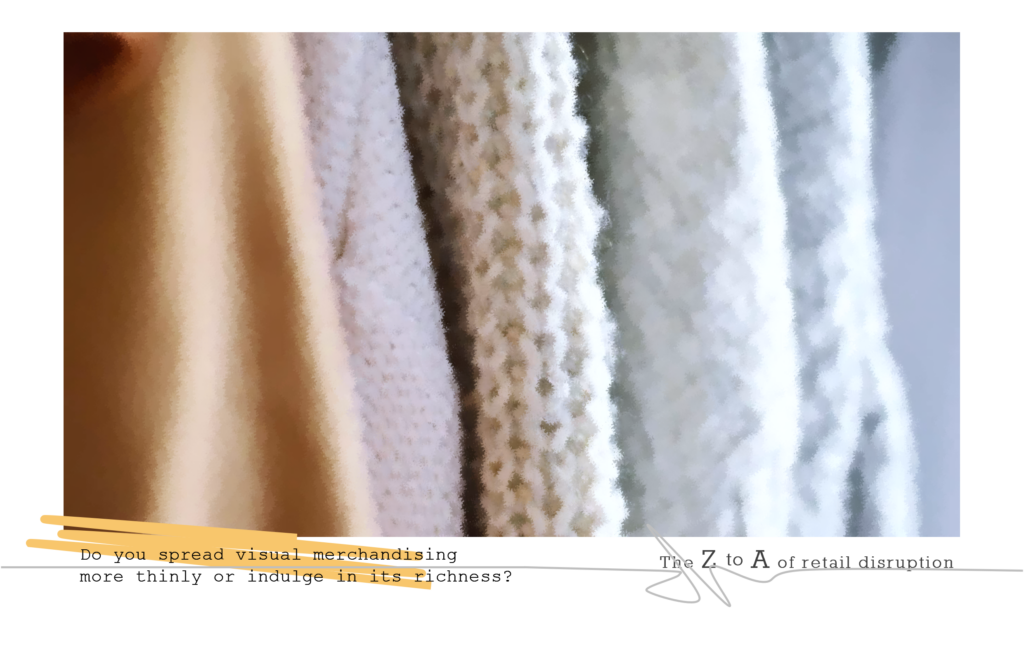 Visual Merchandising, like any other function within a retail business is having to adapt in response to the paradigm shifts that are occurring in the industry.
Those changes are becoming a revolution, not an evolution. What began with globalised supply chains, fast fashion, the advent of ecommerce, pureplay retail, has accelerated into social and rich media shopping, the re-thinking of the high street, through to every area of sustainability from recycling to re-sell, rental, repairs, and up-cycling.
All within the space of a few decades, where the biggest change now is the rate of change.
As with other retail functions VM cannot adapt and respond in isolation. This is not a matter of improving visual display itself.
A good place to begin is with the physical shop. The bastion of visual merchandising. The longer trend has been less shops as ecommerce takes it share, but the resurgence in the customer's clear desire for physical shops after lockdowns is testament to the fact that less shops is only one issue, and arguable not the main one here.
The threat and opportunity to VM is how the role of the physical shop is changing. What is the purpose of a shop for the customer? This is where we find the real ramifications.
The role of the physical shop is no longer just about selling product. Best practice commercial retailers are using the space and the resources in other ways as they create 'retail hubs.' These are 'focal points' for the retailers themselves, for the customer, and for the local community around the physical shop.
The 'Shopper Paradise' will still be the priority for the majority and shops, with its role more inspirational and theatrical than ever. But it will be a smaller part of smaller shops. The trend for many years has been less product, less options per square metre or less square metres.
The 'Community Hub' is growing in importance with more space set-aside to engage customers and build loyalty. The 'Collection Crossroads' is the dedicated area also growing to serve the collections, returns and deliveries of the omni-channel customer. Where stockrooms of unsold products are replaced with storage for paid for purchases.
Increasingly all gross space can be commercialised and put to good purpose, from studios for online customer demonstrations, to meeting rooms for internal and community use, to desks for de-centralised 'work at home' colleagues.
There is a lot going on in today's, 'Shop of the future.'
This new incarnation of the physical shop has less opportunity to work with product display, because it has less products, less space given to product, less product-based windows. However, it does have exciting opportunities for visual merchandisers to take their undoubted product enthusiasm beyond display.
Because I have rarely met a product enthusiastic visual merchandiser, who wasn't also an enthusiast of customers, of talking & demonstrating to customers the features, benefits, and the beauty of products.
Visual merchandisers are product people, but they are also categorically people people. You could not wish to find a more gregarious group of people. The 'Craic' at the recent 'International Visual Display Conference' in Dublin, lays testament to that.
Interactive workshops and customer activities, anything from lessons in how to dress, how to coordinate, how to make a fashion statement, how to 'wear your wardrobe', to teaching how to repair, to up-cycle to create new products from old. These are all well suited to visual merchandisers. Add to this the role of stylist, the role of personal shopper, in the physical store with the physical customer, or via Zoom link from the shop's personal studio. The opportunity to take their skills out of the shop as a brand ambassador to work in schools & colleges, with charities and recyclers.
Does this sound exciting and fulfilling? How many visual merchandisers would be liberated and regenerated by the opportunity to work not only with plastic mannequins, but also with real flesh & blood and the personalities inside them?
The alternative is chains of shops, each with less product, each with less justification for dedicated visual merchandisers. The only answer, to spread their VM resources across more stores. More hours on the road and less on the shopfloor, more remote guidance than hands-on inspiration.
Of course, I personally view visual merchandisers as worth their weight in gold, but commercial businesses will think more pragmatically.
So, the questions remains… As visual merchandisers would you prefer to be spread more cost-effectively across more stores? Or would you like to be embraced as a rich resource, that can bring shops, customers, and communities alive, and satisfy the new role of the physical shops, and the boardrooms and managers that fund them?
---
'Meaning in the Retail Madness' How to be an Essential Retailer
Published by Wordzworth Books 2021
'Meaning in the Retail Madness' explains how touchpoints have replaced channels, how linear supply chains will become circular, why assortments are increasingly virtual, how physical is turning to local, and why products and shops are not necessarily made for each other anymore.
It supplies a blueprint for retail's new 'agile organisation,' its structure and its processes. How retail must integrate people with technology, generate commercial sales through sustainability, stimulate customer loyalty through ethical behaviour, and achieve profit without profiteering.
This book is an essential must have. A life time of experience packaged in a clear, simple and methodical way.

Many publications about this subject tend to be whimsical speculation, but founded on front-line experience this book collates relevant/current case studies and pairs them with simple action plans and guidelines.


Jolyon. Brand Strategy Director & co-founder of BlendUs
"Wonderful read !!"

A really insightful book, the author clearly shows that you can be ethical, sustainable, and still make money as a retailer


Sarah Roberts

Buy it on…
amazon.co.uk – amazon.com – Waterstones.com – Blackwells.co.uk – Foyles.co.uk
amazon.es – amazon.it – amazon.de – amazon.fr – amazon.com.au
Barnes & Noble – amazon.in – amazon.com.mx – amazon.co.jp – amazon.com.br