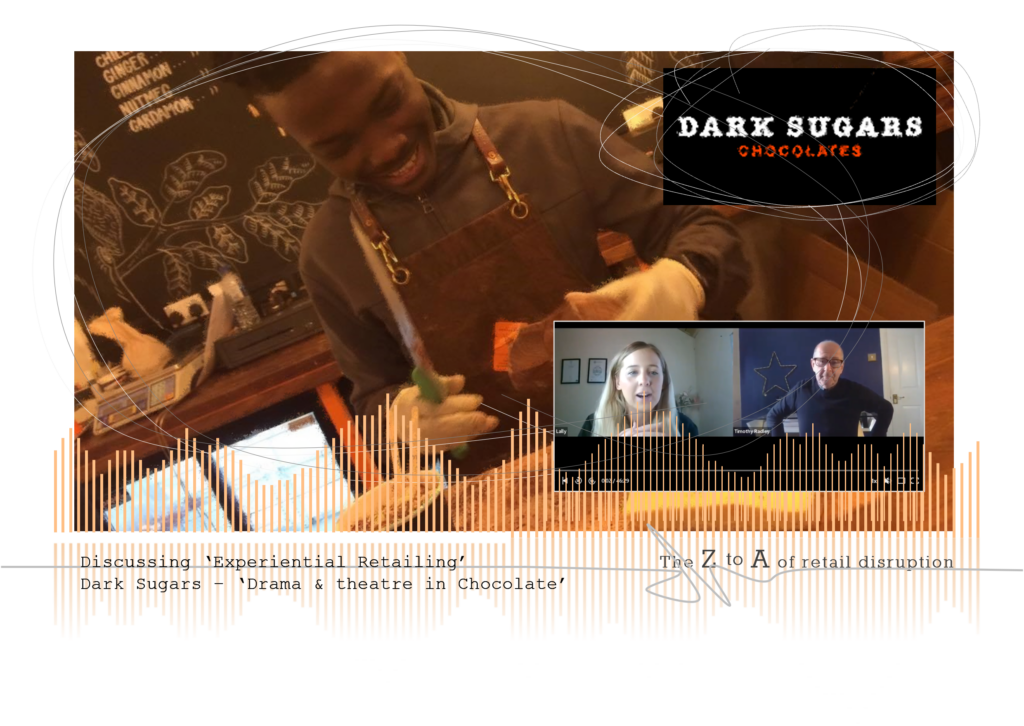 Listen to myself, Tim Radley, on the Louise Lally podcast, discussing the much vaunted but little understood concept of 'Experiential Retailing!'
Join the free podcast now through this link…Retailing with Meaning Ep1 Store Concepts (podbean.com)
The podcast features a discussion on Dark Sugars, and its chocolate destination shop on Brick Lane, with its wonderful and beguiling atmosphere.
Dark Sugars is no ordinary chocolate shop. The trademark truffles, in evocative flavours, dusted with cocoa powder, ginger and spices, are displayed in hand-carved wooden bowls that immediately stir the curiosity of the passer-by. The smells and sounds of foreign lands pervade the air, supplemented by the regular and generous tastings.
The showstopping event space is the counter, where hot chocolate is continously prepared for the long queues of customers. The hot milk bubbles to one side, as the skilled vendor places a huge block of chocolate on the worktop and sets to it with his large knife. Shards and wafers find their way to the hot milk melting and adorning the overflowing mugs.
This is pure drama, it is danger, and it is anticipation. And it is delivered by people and a brand who feel a passion for the chocolate and beans that they physically source across the globe, used to create unique flavour combinations from the heart.
So, take a listen to the podcast, discover Dark Sugars possibly for the first time, and understand why unique experiences born out of authenticity, can only be created from a genuine passion.
I'll also explain and illustrate with best practice examples, the many ways that shop experiences can be created, the balance of people and technology, product interaction, the importance of knowing what type of type of experience your customer wants, and most of all how to be genuine & authentic.
Topics in the interview include:
'What does Experiential Retailing' mean, and how do you evolve this for your own business?'
'What actually is a good retail experience, and is it the same for every retailer, and for each customer?'
Why Authenticity is the saviour of the high street, and not experiential retailing alone!
Are retailers born, or can they be made? Can experiential retail be effective if it is not genuine?
Why the 'Passion Supply Chain' is so important for all retail businesses to develop!
The four elements of new shop concepts – 'The Shopper Paradise,' 'The Collection Crossroads,' 'The Community Hub,' and 'The Business Centre!'
Why successful experiences only come through the balance of 'People & Technology!'

This is the first of 4 exclusive interviews Tim is giving during October. Other interviews cover:
Visual merchandising & Shop theatre
The new world for Retail people
Sustainability & ethical retailing


In the meantime…
'Experiential Retailing' is featured in the new book – 'Meaning in the Retail Madness – How to be an Essential Retailer'
If you'd like to read my book for many more retailer insights and best practice. And to here my thoughts on retail's future, then that's an excellent idea.