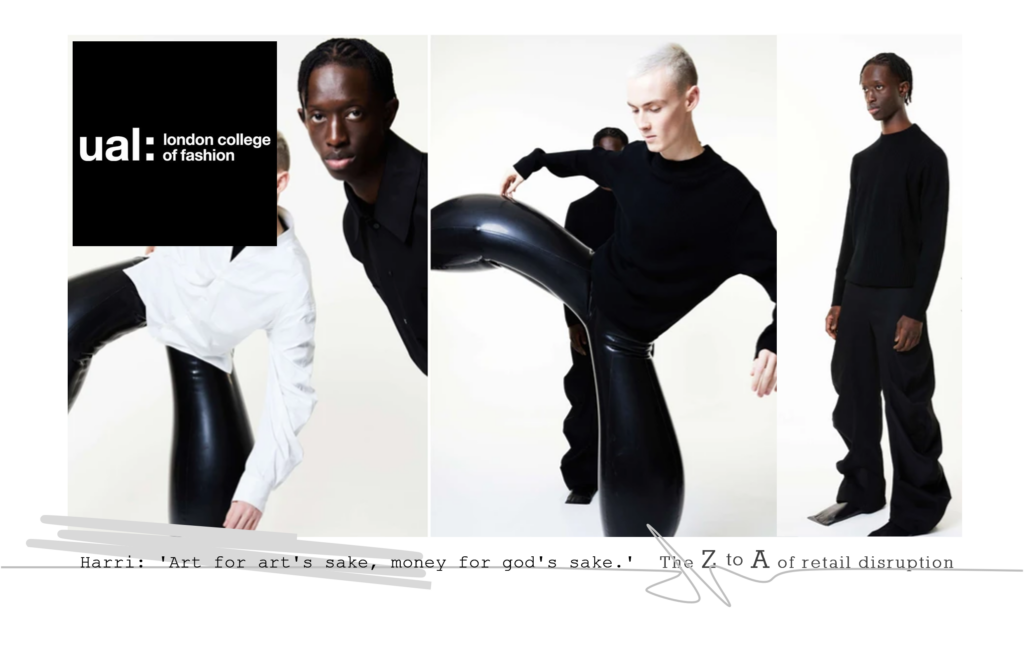 Harri is already a household name to many, yet he is only 3 years out from graduating from the London College of Fashion, and 2 years on from founding his fashion brand.
Clearly Harri was always a mavaric, seeing the world and his work through a particularly individual lens. His graduate collection, 'Let's put him in a vase' went viral, whilst his association with Sam Smith culminating in the famous inflatable outfit for the 2023 Brit awards brought Harri's unique forms, outrageuous volumes, and subtle humour to the notice of a whole new audience.
Harri and his colleagues are part of this year's collaborative challenge at the London college of Fashion. Quite a gesture to his former college for such a busy and successful man, now with shops in Los Angeles & Japan. Quite an opportunity for the students to work with his brand, to develop ideas for his communication strategy, the evolution of his assortment, and a concept for a physical shop space.
The collaboration probably comes at an appropriate and interesting time in the brand's evolution, as it emerges from its initial stellar success, a world of famous beneficeries and influences, clients on catwalks and red carpets, from the streets of London & Paris to the stages of Coachella.
The LCF students listened to an interesting presentation from the brand's CEO, Abhinov Asokan. He was himself dressed in a Harri outfit, but whilst it showed the shape and form of all of the brand's designs it clearly signals a strategy to commercialise the publicity and interest into an assortment and a brand proposition that is accessible and desirable to a much wider audience.
Every brand reaches a point when creativity must be translated into commercial performance. And because every brand is so different the process to find the correct strategy for each one has many options and opportunities to consider.
This is a crucial period for Harri.
Already the students can see how Harri's passion for sculpture and movement has been protected and applied in a distinct and empathetic way to a core collection. Whilst the designer continues to explore a variety of materials and fabrics together, drawn from across the globe.
Each stage of the student's project, and the Harri brand custodian's daily work requires decisions that are not easy. Is the brand proposition based on its spectacular image makers, or its commercial dilution? Should Harri as a designer, or Harri as an assortment be the focus of the brand moving forwards? Or is it a smart combination of messages tailored to different customer groups and delivered through segmented media that will keep the inspiration and the accessibility on the same track.
Indeed who is the customer, or customers? What does each one want from Harri, and how should the assortment develop creatively but also as an ordered and balanced collection. And how should such an imagination be captured and communicated within the confines of a physical space.
With creativity comes responsibility.
This collaboration promises to be an exciting challenge. It is an absolute pleasure to have Harri and his team back in the heart of the college, where not long since he found himself in the same situation, with the same opportunities, as the new MA students. That is an excellent lesson in itself to begin the process.
The LCF Collaborative Challenge is part of the curriculum of their BA fashion courses. The objective is for teams drawn from complementary disciplines, from fashion management to design and media, to transform one of a number of LCF alumni fashion brands into a physical customer proposition and retail space.
They will work as individuals and as a team on the brand creativity & communication, assortment curation, customer definition, physical shop location strategy, physical and digital shop design, and marketing & publicity. The projects culminate with a pop-up shop design concept bringing all of their work together as a single seamless physical entity.
---
Introducing
R E T A I L M E A N I N G
Professional e-learning courses designed to provide real-time expertise across a range of retail specialisations, strategy, management and operations.
Delivering the knowledge and insights required to survive and succeed in today's dynamic & disruptive retail world.
Educating & Inspiring a new age of retail leaders & entrepreneurs.
Course modules:
How to make yourself essential to customers…
How to build your brand proposition & loyalty…
How to plan your road to retail success…
How to become a great retailer…
How to create customer communities…
How to sell more to your customer community…
How to achieve the next competitive advantage…

R E T A I L M E A N I N G eLearning will be launching very soon, in the Autumn of 2023.
Please contact me to show your interest, or ask any questions…