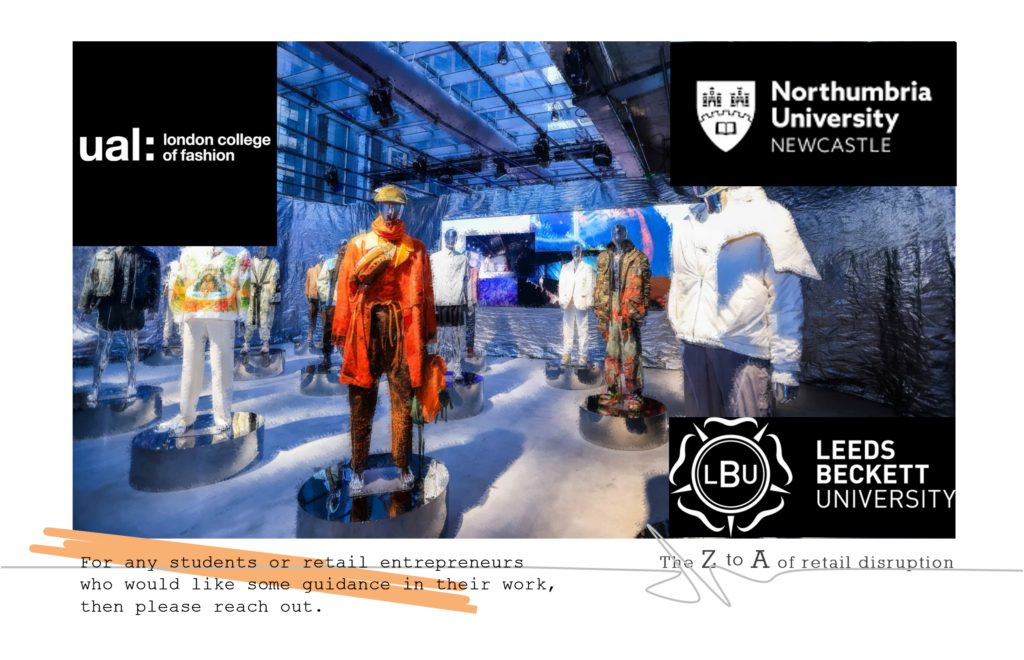 It is always a great pleasure to support students and young retailers.

The learning process is definitely 2-way. Hopefully the students gain from my own experiences and advice, whilst I certainly always find it so refreshing to listen to, and understand the influences and opinions of our next generation of retail entrepreneurs.

Tilly is a student at Northumbria University. Coincidentally, an organisation that I had worked with previously, helping them to develop a retail strategy for the campus.

She approached me for guidance in her final project on design and immersive visual merchandising. Her approach has been fascinating. I believe she has produced an excellent document. And I wish her the best of luck with the remainder of her degree and her future career. She has the entrepreneurial spirit.

For any other students or retail entrepreneurs who would also like some guidance in their work and hopefully wise words, then please reach out. Ill always try to find the time to listen.

In the meantime, I continue my work with the London College of Fashion again this Autumn, as part of their Collaborative Challenge Industry Partner Programme.

And I am also very excited to be lecturing for the first time on the Fashion Merchandising Degree Course. I'm so looking forward to discussing subjects such as the The Future of the Supply Chain, Circular Retail Models, Sustainable sourcing and the development of customer and product lifecycles.

It certainly promises to be a very stimulating few months, for the students, the lecturers, and for myself. Can't wait to see our endeavors come to fruition.

I totally believe in the integration of retail experience and youthful enthusiasm, and that our collaboration will help the students to understand the many facets of the modern retail world and prepare them for exciting careers in the new commercial landscape.
---

Introducing
R E T A I L M E A N I N G
Professional e-learning courses designed to provide real-time expertise across a range of retail specialisations, strategy, management and operations.
Delivering the knowledge and insights required to survive and succeed in today's dynamic & disruptive retail world.
Educating & Inspiring a new age of retail leaders & entrepreneurs.
Course modules:
How to make yourself essential to customers…
How to build your brand proposition & loyalty…
How to plan your road to retail success…
How to become a great retailer…
How to create customer communities…
How to sell more to your customer community…
How to achieve the next competitive advantage…

R E T A I L M E A N I N G eLearning will be launching very soon, in the Autumn of 2023.
Please contact me to show your interest, or ask any questions…