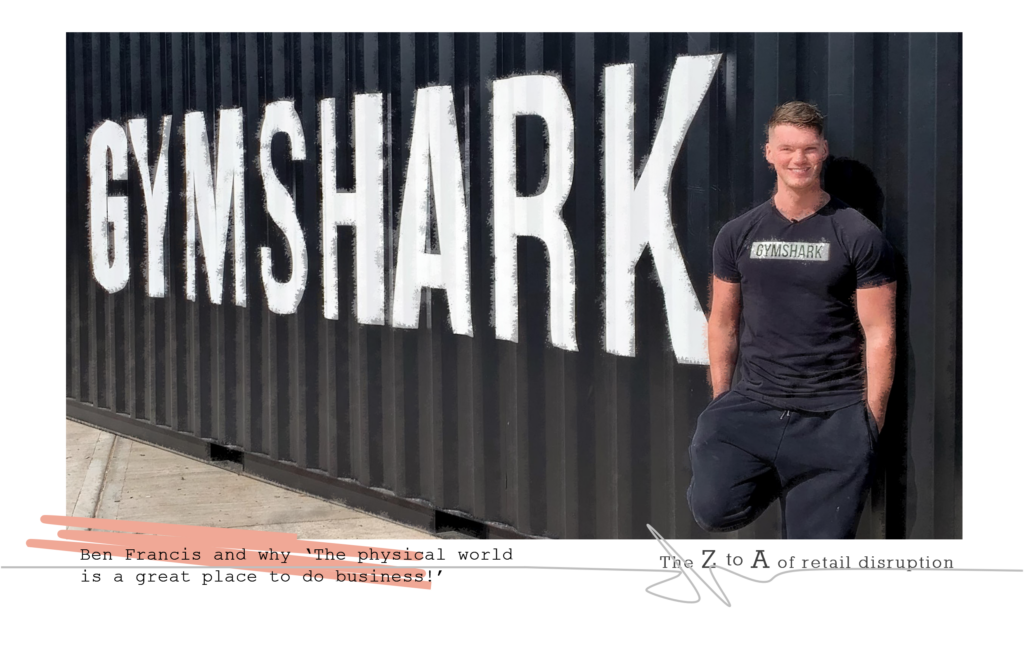 Gymshark – 'The physical world is a great place to do business!'
As you may know, I am a great advocate of Gymshark and its founder Ben Francis.
For those of you who are not familiar with either, Gymshark is now one of the leading gym wear brands in the world valued at over $1 billion. It was founded barely 10 years ago by Ben Francis. Disillusioned by his choice of kit for the gym, other than the large brands, he set up a website and produced products to order in his garage with his grandma's sewing machine and a second-hand fabric printer.
What a story of entrepreneurship. That someone with ideas and determination, and who is a thoroughly decent man, can rise to the top of the business world.
In his latest statement there are two interesting takeaways.
Firstly, despite only opening its first physical shop last year, Francis sees the longer-term future of his brand as a fully-fledged omnichannel business, with an essential new focus on more physical shops.
Of course, he is not alone in this conclusion, and all new evidence suggests that omnichannel is the commercial way ahead. But it is still encouraging to hear that a $1billion brand built exclusively online as a pureplay retailer, is advocating the physical shop.
It would, serve other online giants well to swallow their pureplay pride, admit the same, and put some physical wheels in motion to assure their future growth.
The second interesting thing that Ben Francis said was that the UK is still a brilliant place to do business. That despite Brexit, and the cost-of-living crisis which is of course affecting everyone, that as a dynamic place to meet diverse businesses, entrepreneurs, and visionary collaborators it is up there with the best.
Having grown up here, and living close to London, I would agree totally with him, when he talks about this vibrant community of people. Both physically but also via LinkedIn I have also met the most amazing and inspirational people, providing both physical and emotional support for young people to take on the business world with innovative and new ideas, with energy and passion, and more often than not, with refreshing ethical and sustainable values.
The fact is that LinkedIn is a remarkable insight into an international worldwide pool of equally extraordinary and inspirational individuals. This talent and energy is not restricted to any country, or specific demographic group, any background or origin.
My conclusion is that despite the perpetual bad press, the doom and gloom merchants, and the social conspirators, the world is still a great place to do business, an extraordinary melting-pot to stimulate, encourage and assist anyone to get on the entrepreneurial ladder.
And all the better for the retail world, that the most intelligent and successful voices from the digital generation are still seeing the commercial and social benefits of operating in the physical world.
As a community on LinkedIn, we are all part of this dynamic world of ideas and solutions. Let us also not forget to leave our screens every so often and go out into the physical world and meet like-minded people in conferences, exhibitions, demonstrations, workshops, and even over an intimate cup of coffee.
If it is good enough for Ben Francis, then it is good enough for me.